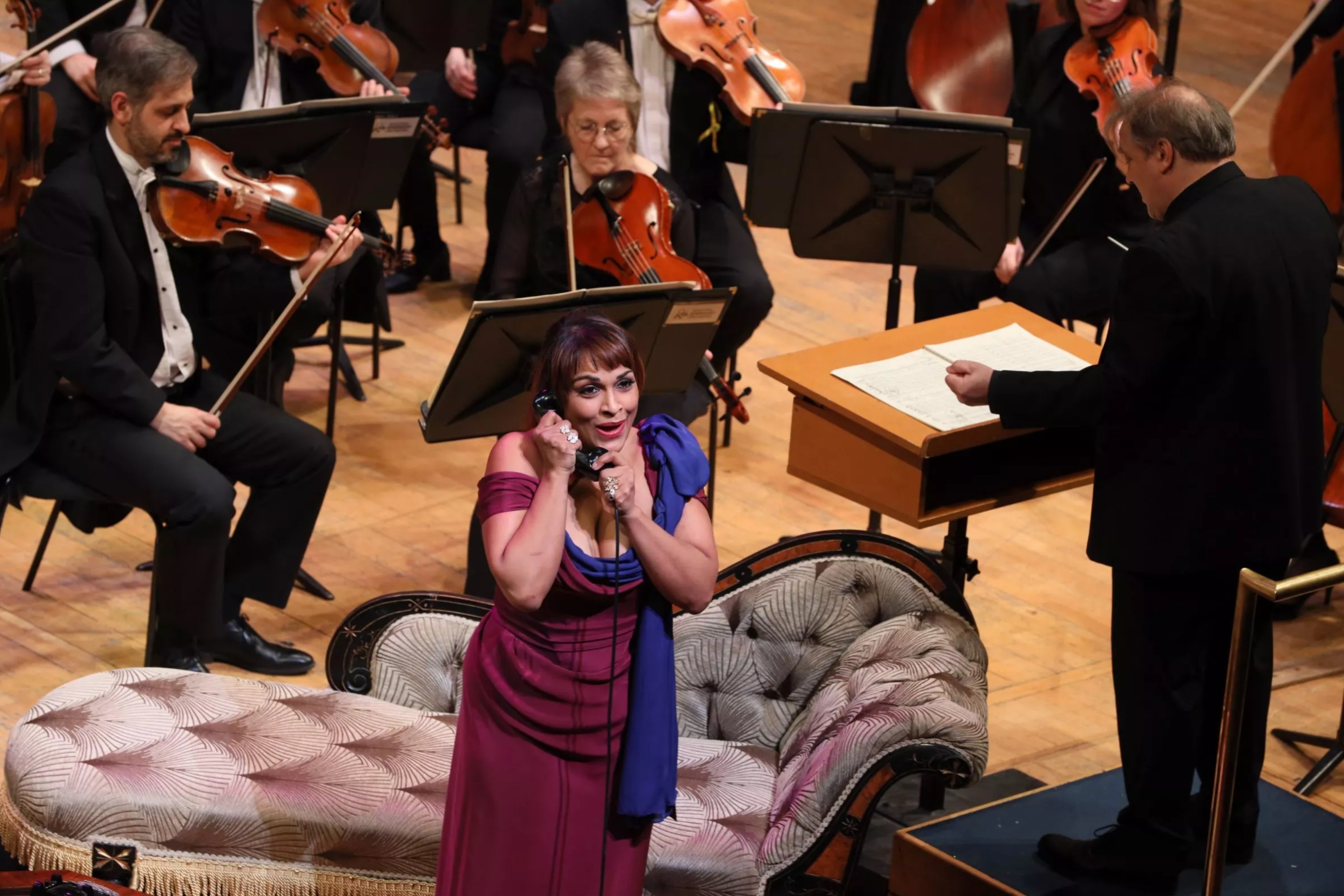 By Andrew Larkin, 28 January 2023
While Poulenc's opera La Voix humaine doesn't pass the Bechdel Test of gender bias (a measure of representation of women in literary works) its lone female one-side-of-a-telephone conversation is a fascinating, acerbic and utterly contemporary commentary on the near universal experience of love rejected. Since the opera is a short single act (45 mins), its one person drama perfect for half a concert, it does present the challenge of what to pair it with. Brahms' noble, elegiac Symphony no. 3 in F major was certainly disparate from Poulenc's despairing, searing monodrama, making for an odd programming mélange.
Wisely starting with the Brahms, Jaime Martín conducted the National Symphony Orchestra, delivering a generally satisfactory Third. The balance of the tumescent chordal opening was slightly chaotic with the brass dominating too much to the detriment of the strings' top F. Soon afterwards, velvet strings re-established control with luminous antiphonal exchanges from the woodwinds. Martín highlighted the questing, restless spirit of this opening movement. The brass were more impressive in the recapitulation with searing crescendos on their notes or in thunderous peals as the music led us away from the home key of F major.
In the second movement Andante, Martín managed to elicit the touching intimacy of chamber music from the symphony orchestra creating a beautiful stillness. Shy, vernal strings hummed their melody delicately while bird-like woodwinds chanted back. The extraordinary cello melody which opens the third movement disappointed: it sounded more perfunctory than haunting, lacking that intensely emotional feel; only on the final iteration on the violins did they imbue it with something like mystical yearning. The snarl of the subito forte led us to a finale where vigour and passion swept through the orchestra. This was a movement full of excitement with thrusts of fortissimo brass and percussion interjections. Martin made the ending sound like a benediction with the sustained F major chords.
Poulenc's opera is based on Jean Cocteau's 1928 monodrama. It is a bleak monologue of a woman on the telephone to her former lover on the eve of his marriage to another. The other voice we don't hear but we are left to conjecture his responses, helped by an orchestral accompaniment that is at times indifferent, at other times placatory. It is a bittersweet conversation, in turns cajoling, despairing, intimate and finally bleak. There are moments where the intimate "tu" clashes with the formal "vous" as the lines from misdialled numbers interfere with this poignant monologue.
The props here included a chaise longue, a chair, a table and the all-important telephone from which a series of disembodied calls ensue. Soprano Danielle de Niese's tone was soft and velvety, bathing her words with sensual colour. Martín and the NSO responded in kind with diaphanous chords that hovered sensually in the air, redolent of former times, only to be dispelled instantaneously with shrill strings and jagged brass.
De Niese conveyed that heart-stopping moment when she can't reveal her outright despair at his nuptials tomorrow – her "demain" was devastatingly sad. The word "folle" to describe her increasing madness and despair was a cry from the heart. In a spirit of mordant irony, her threatened suicide takes place on a backdrop of lustrous, romantic sustained chords. At the end, de Niese was left declaring "Je t'aime" forlornly on a disconnected line, the telephone cord partly encircling her neck.