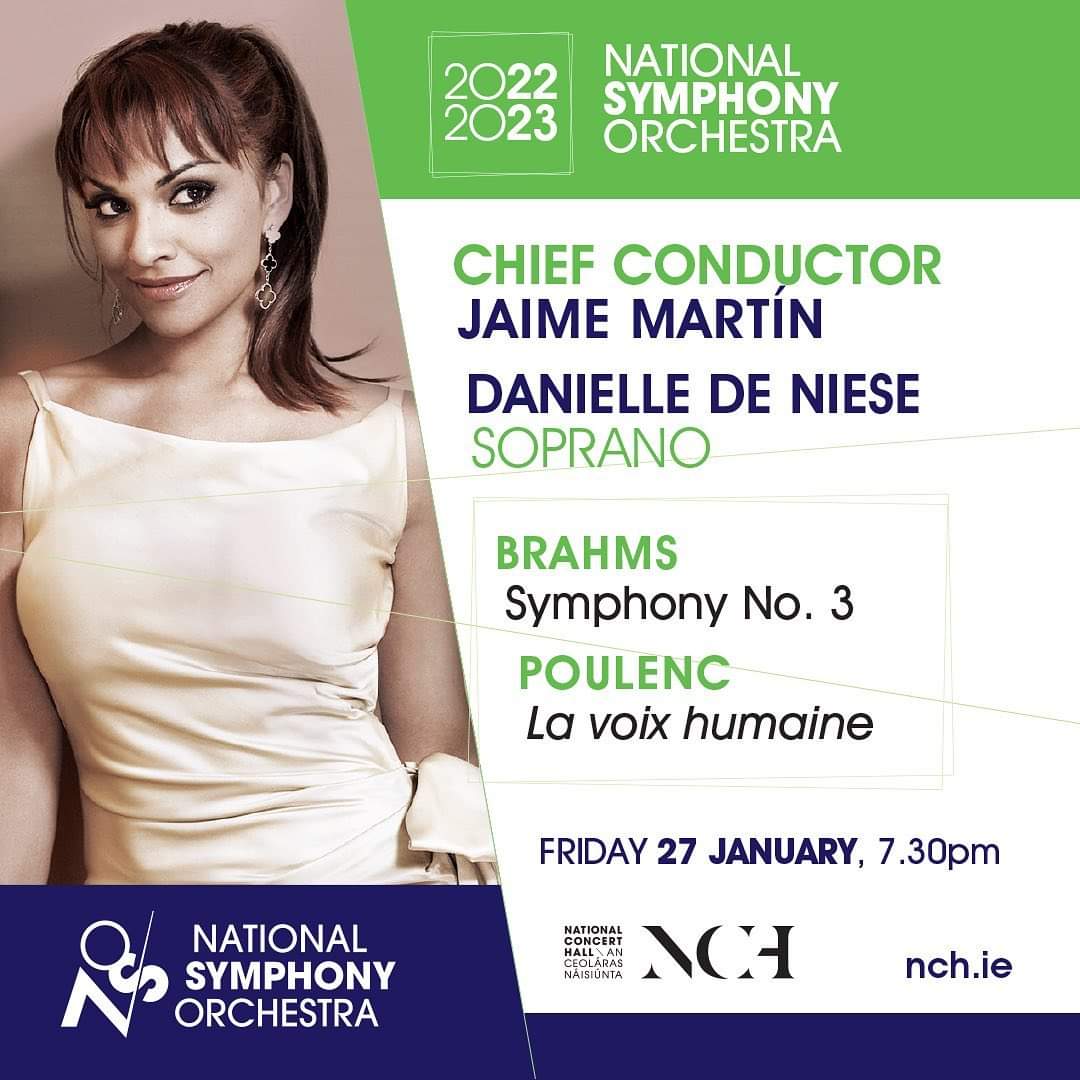 After a very busy week and ahead of the start of a new term on Monday, it was nice to be back in the National Concert Hall in Dublin last night for a superb concert, featuring a double bill of Brahms and Poulenc. It is quite an unusual pairing to have a symphony first, but each work we heard was about 40 minutes long, so it was actually well balanced, and the contrast worked very well indeed.
Before the interval we had came the main course in the form of the Symphony No. 3 in F Major by Johannes Brahms. This is of course quite a familiar work, but I really like concerts that mix unfamiliar material with the standard concert repertoire. It also gave me the chance to persevere with Brahms as my friends keep telling me to. It's not that I don't like Brahms, it's just that I don't find that he moves me as much as many other composers and so many people rave about him that I think I must be missing something. The 3rd Symphony is a very fine work, offering lots of variety across its four movements while maintaining a strong sense of coherence. I'm no expert on Brahms but it seems to me that the 3rd Symphony is where he really found his voice as a symphonic composer and stepped out from the shadow of Beethoven. It was performed beautifully last night under the direction of Jaime Martin and the National Symphony Orchestra.
After the wine break we returned for a rare treat in the form of La Voix Humaine, a one-act Opera for soprano and orchestra by Francis Poulenc, featuring the wonderful Danielle de Niese. The staging for this work is shown in the picture taken before most the orchestra had returned: just a chaise longue, a chair, a small table and an old-fashioned telephone.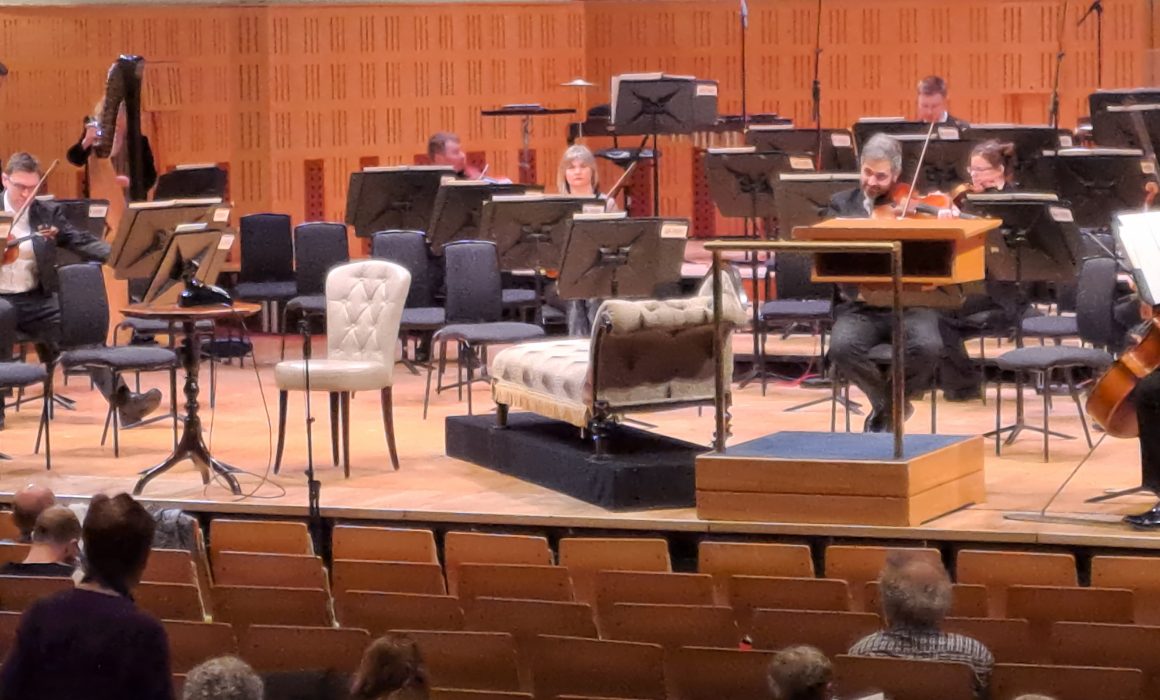 La Voix Humaine portrays the last conversation between an anonymous woman (referred to throughout as Elle, the French word for "she") and her lover, with whom she has just broken up. Only one character appears on stage and we only hear Elle's side of the conversation. She sings into the telephone throughout; . the audience has to infer what her ex is saying at the other end. There are also frequent interruptions from another character who keeps intruding on the conversation, as the call appears to be on a party line, a concept that younger readers will not understand! This, together with the frequent disconnections and reconnections, provides some darkly comic relief. As you can probably imagine, it doesn't end happily.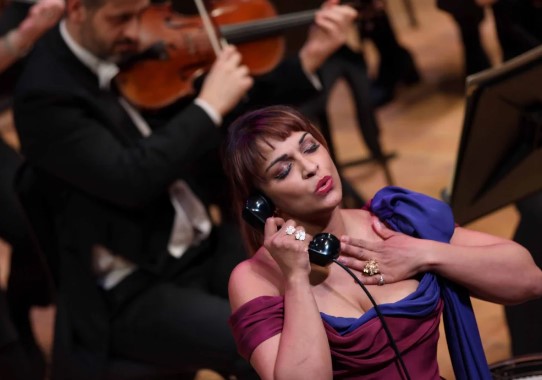 The performance was in French and there were no surtitles. It struck me that this work would be very difficult to translate into another language, as the music so accurately follows the natural rhythm and emphasis of spoken French. We were given the full libretto, with English translation, in the programme notes, but fortunately my memory of schoolboy French was good enough to get me a pass mark on following it without having to refer to the translation.
Poulenc's compelling and emotionally charged music helps suggest what is being said at the other end when Elle is not singing, as well as accompanying her. The score struck me as rather cinematic, in that parts could easily be imagined as incidental music in a movie. Given the nature of the libretto, much of the music is like a the recitatives you find in operatic scores, but it is also more expansive and sensual when Elle pours out her broken heart. There are definite touches of Debussy in the orchestration, but it's a very original approach that Poulenc uses and the National Symphony Orchestra made it come alive with great intensity.
And what can I say about Danielle de Niese? Amazingly, this was the first time she had performed La Voix Humaine in front of a live audience. She was sensational. She has a lovely voice and sang beautifully but her acting was also utterly convincing and she had a compelling stage presence. This was not just a concert performance but a genuine opera. I was straight up on my feet at the end, along with the rest of the audience. Brava!
To be honest, this was the piece I went for, rather than the Brahms, as I had never heard it before. I wasn't disappointed. It was an intensely moving performance of a remarkable work which had me in pieces at the end. I enjoyed Brahms 3rd Symphony, but La Voix Humaine hit me in the guts. I must listen to more Poulenc.
Danielle de Niese is back at the NCH next Friday, singing Ravel and Mozart. Needless to say, after last night's performance I'll definitely be going!