United Kingdom Poulenc, La Voix Humaine: Danielle de Niese (soprano, Elle), Orchestra of the Royal Opera House / Sir Antonio Pappano (conductor). Film (directed by James Kent) to be screened on BBC Two at 10pm on 15.4.2022. (JPr)
This new film of La Voix Humaine (to be shown on BBC Two on Good Friday) is directed by James Kent (Aftermath, Testament of Youth) and designed by Peter Francis, with cinematography from Laurie Rose and edited by Rachel Durance. This one-act opera for soprano and orchestra has been described as 'visceral, heartbreaking, and with extraordinary intimacy and emotion'. It stars Danielle de Niese (who also serves as Executive Producer) and she has said, 'I am thrilled to bring Elle to life for the cinema screen and to be collaborating with such a wonderful team of world-class award-winning creatives. The piece, which is focused on a single psychological trajectory, feels like it was born for the film lens, not least because the entire work centres solely around the heroine. One of the most frightening lines in the film is: "If you didn't love me and if you were clever, the telephone would become a terrifying weapon, a weapon that leaves no trace…that makes no noise." This has never been more relevant than today where technology can be both a blessing and a curse – it can connect us but also isolate us. If you have ever felt isolated, misunderstood, led on, heartbroken, hopeful, desperate, desolate, nostalgic… I hope this unique film will resonate.'
Francis Poulenc and Jean Cocteau were members of a group of six French composers known as, logically, Les Six. Poulenc was an admirer of the poet, novelist and playwright Cocteau but it took thirty years for his play Le Voix Humaine (The Human Voice) which he wrote in 1928 to become the basis of the libretto for Poulenc's monodrama with the same title. It is believed to be somewhat autobiographical, even though Poulenc – with its simple premise – has created a complex study of a woman's mental disintegration. Elle embarks on a (last?) phone conversation with a lover ('Monsieur') who has deserted her after their five years together and wants a bag of their letters returned. Wrong numbers, crossed lines and getting cut off does not help as she tries to hold onto the last vestiges of hope that they might rekindle their relationship. At one point she returns the call to her (ex-)lover's home and when he is not there suspects he is at restaurant they used to go to. Eventually he calls her back and Elle confesses that she has attempted suicide because she has felt abandoned and so alone. Things become worse for her when it seems her lover is with his new girlfriend though this is never confirmed and he could, of course, be back with his wife. Elle's obsession with her telephone is revealed in how she has slept with it in her bed for the last two nights and – in these pre-mobile days – now has its cord wrapped round her neck. The opera ends with Elle pitifully repeating 'Je t'aime'.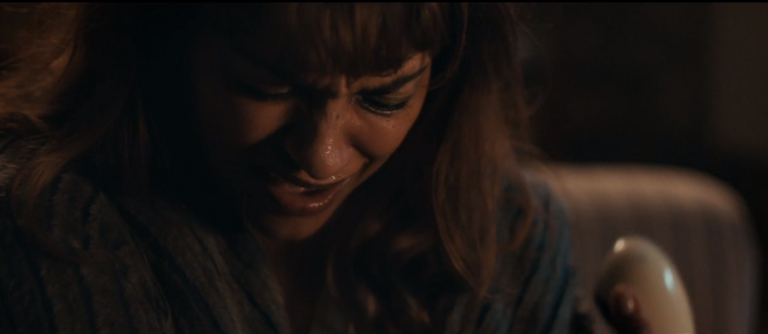 Witnessing the jilted Elle clinging on with her manicured nails to her dissolving relationship could be rather maudlin nonsense had not Poulenc created such a compelling hymn to lost love and the fadeout of a woman's romantic spirit. It is of little wonder that the composer's publisher, Ricordi, suggested La Voix Humaine as a vehicle for Maria Callas, but Poulenc knew it needed a French soprano and it was composed with Denise Duval – who had appeared in his 1956 Dialogues des Carmélites – in mind.
Elle (Danielle de Niese) at the beginning of La Voix Humaine
So what do James Kent and Danielle de Niese do with the material? Well, they recreate La Voix Humaine as a parable for the lockdown times of all our recent pasts and it becomes the near perfect (in miniature) opera for TV. Many were left feeling isolated during the pandemic and it was perhaps only disembodied voices on Zoom (or similar) or though phone calls that they could connect to other human beings. Arial shots take us down the Seine in Paris and to a side street where Elle's well-furnished – and slightly cluttered – apartment is. In her nightdress and dressing gown Danielle de Niese as Elle wanders between living room, bedroom and bathroom with a cordless phone clamped to her right ear and Laurie Rose's close-up camerawork follows her all the way and gives de Niese little room to hide. When the camera rested on something other than her expressive face one thing it briefly focussed on was the photo of a young boy which made me wonder whether there was child involved in the couple's split, so ambiguous is their past relationship.
The novelty (is it, since I have never seen and heard La Voix Humaine before?) is that we hear – but do not hear because he is so faint – Monsieur (Edward Baker-Duly) responding to Elle. A first question is answered and we are in the real and not the imaginary. Or are we? Perhaps these are just voices in Elle's head. Why is getting the letters back so important? How concerned is Monsieur – if at all – about her mental health, particularly when Elle admits to attempting suicide and that she might try again? Elle lets it be known that he suggests it is all an act when she says she is fine and has been out with her friend Martha and the pill she took was just to help her sleep. Elle insists throughout that Monsieur is 'kind' and she is to blame for the ending of their affair, yet is she a victim of gaslighting? In nearly 50 minutes de Niese brilliantly encompasses and declaims the full range of Elle's feelings: love, fixation, reminiscence, anxiety, loneliness, naivety, self-delusion, jealousy, rejection, depression and despair. Along the way Kent shows us flashbacks of Elle and Monsieur making love in happier times which is juxtaposed with her pill-taking. I was going to come to some conclusion, but I think it is best that you watch this La Voix Humaine and make up your own minds as to how it all ends. Whilst Elle at the very last gets to a corded phone and suggests having the cord round her neck is like having her lover's voice round it, de Niese is still alive at the final fad-out though her achingly sad 'I love yous' have had a finality to them similar to the 'Ewigs' at the end of Mahler's Das Lied von der Erde which signal a farewell to life.
For such an intimate setup Poulenc's score appears composed on a grand scale although there are almost as many pregnant pauses as music (which is food for thought itself in the context of Elle's story). Played by the Orchestra of the Royal Opera House and conducted by their music director Sir Antonio Pappano La Voix Humaine sounded gloriously sensuous, packs a great emotional punch and is, oh so, profoundly moving particularly because Danielle de Niese will have you rooting for Elle getting back control of her life.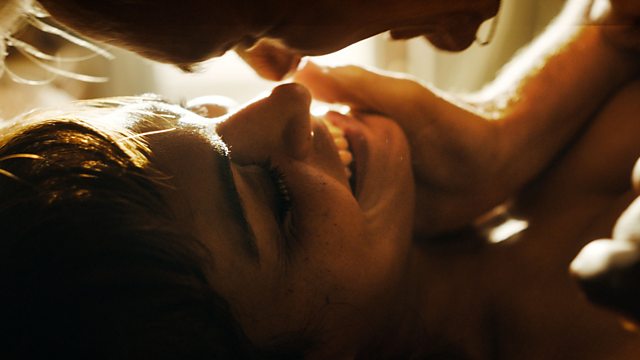 Of course there is also a tremendous sense of nostalgia to the use like this of a telephone for the couple's break-up, as from what I understand, these days you would probably just exchange texts and emojis!
La Voix Humaine on 15 April or afterwards on BBC iPlayer is not to be missed!
Jim Pritchard