November 26, 2022 by Fiona Maclean
Jake Heggie's new production – It's a Wonderful Life
At the time of scheduling, no one at ENO could possibly have anticipated their own need for a Christmas miracle. The irony of the parallel universe, where a deficit of $8000 threatens to lead George Bailey and his business into financial ruin and where he's saved by his own community – people whose lives he has enriched over the years, must have struck home with the team at ENO. Their own community of friends was out in force last night. A packed house included several colourful characters in costume. Not, as we initially thought, part of the show, they were creatives who had dressed up to draw attention to the plight of English National Opera who have lost their ACE funding completely unless they find a way to relocate away from London. It's a move by ACE which has sent shockwaves through the creative community. I have heard no logical explanation for defunding an organisation that provides so much support for the community and makes such good use of its home, the London Coliseum, painstakingly restored a few years ago thanks to its own fundraising efforts.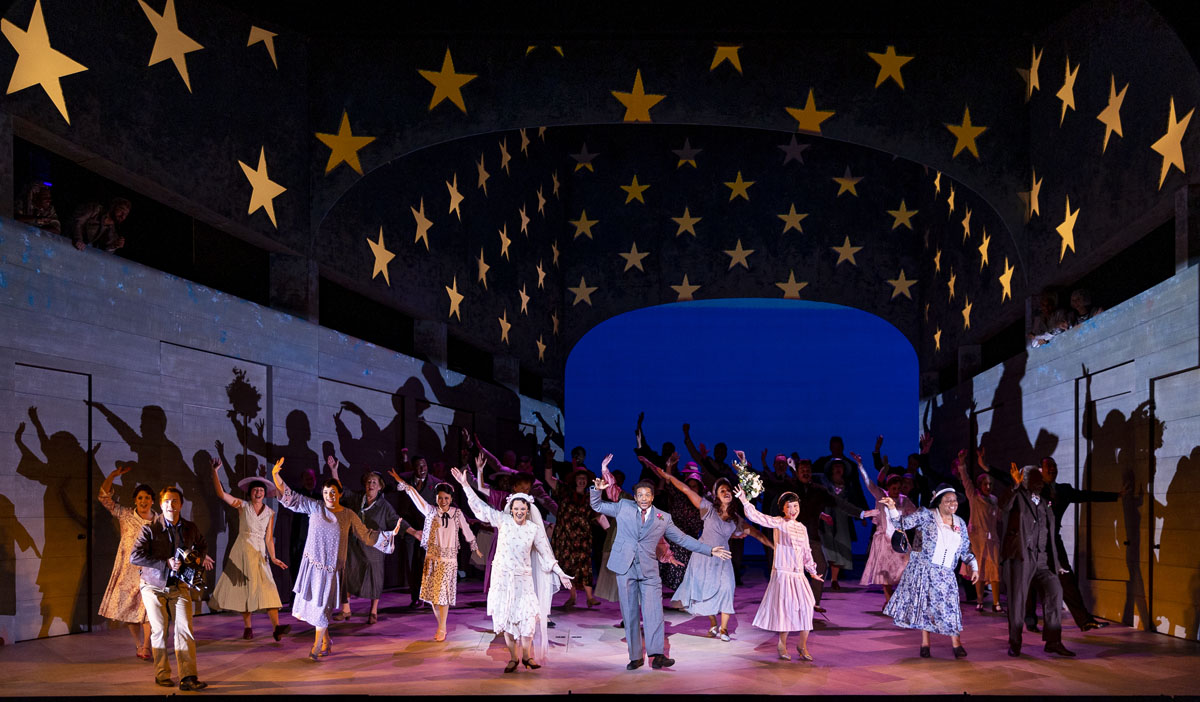 It's a Wonderful Life is, of course, based on the film of the same name (which in turn drew its inspiration from Charles Dickens's A Christmas Carol). With music by Jake Heggie and a Libretto by Gene Scheer, it tells the story of George Bailey (Frederick Ballentine), a humble man of humble origins in a humble small town. A mellifluous tenor, Frederick in the role of George was convincing with a powerful stage presence and great characterisation.
We last saw Danielle de Niese in La Boheme at the Royal Opera House. My colleague, clearly smitten, wrote 'who wouldn't be driven mad by diva Danielle de Niese, resplendent in a stunning scarlet frock' Here, as Clara, George's guardian angel, she is on stage throughout the show, a slightly gauche, unconventional and 'Angel Second Class' without her wings, who has to prove herself in order to be promoted.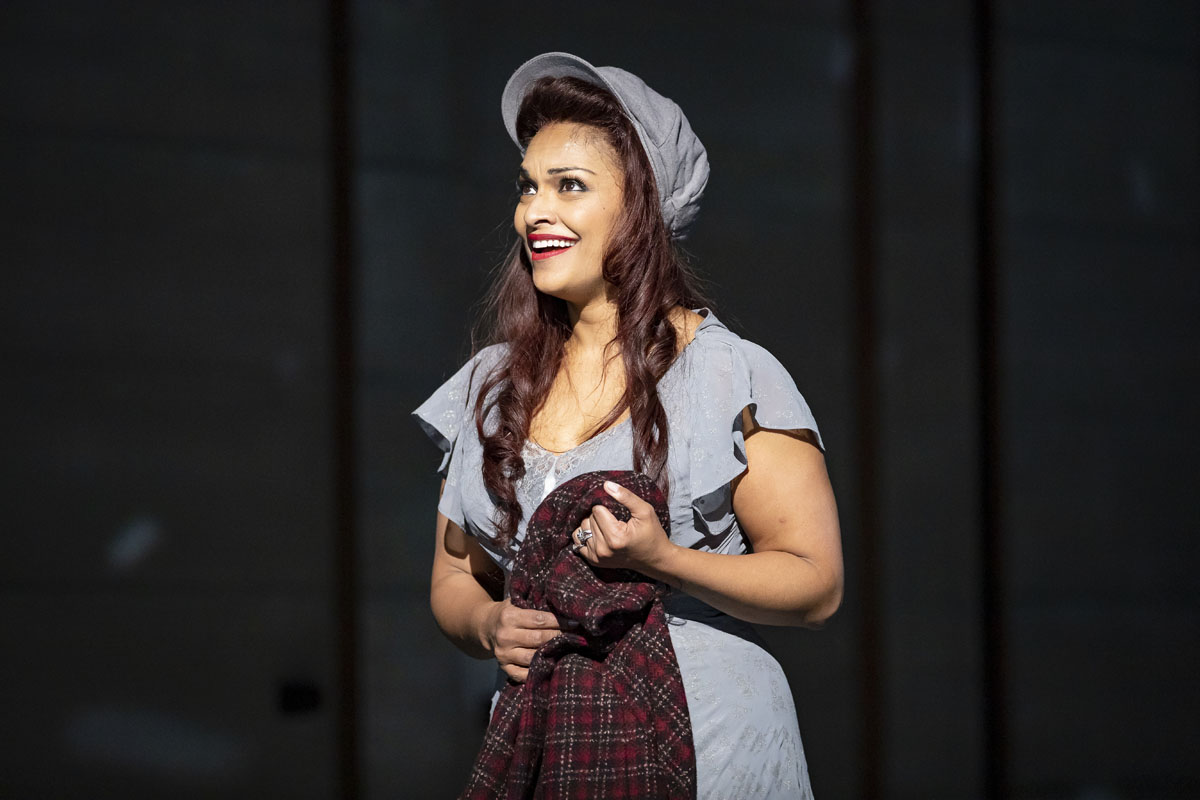 Vocally Danielle has it all and I'll look forward to seeing her in more roles going forward. Her next appearance in London is at an immersive performance of Handel's Messiah at the Drury Lane Theatre on 6 December which sounds as if it will be a fascinating event. As Clara, Danielle was truly beguiling and although the wired flying scene looked somewhat uncomfortable (it WAS the first night), it's the kind of moment that will stay in the hearts and minds of every child who sees the show.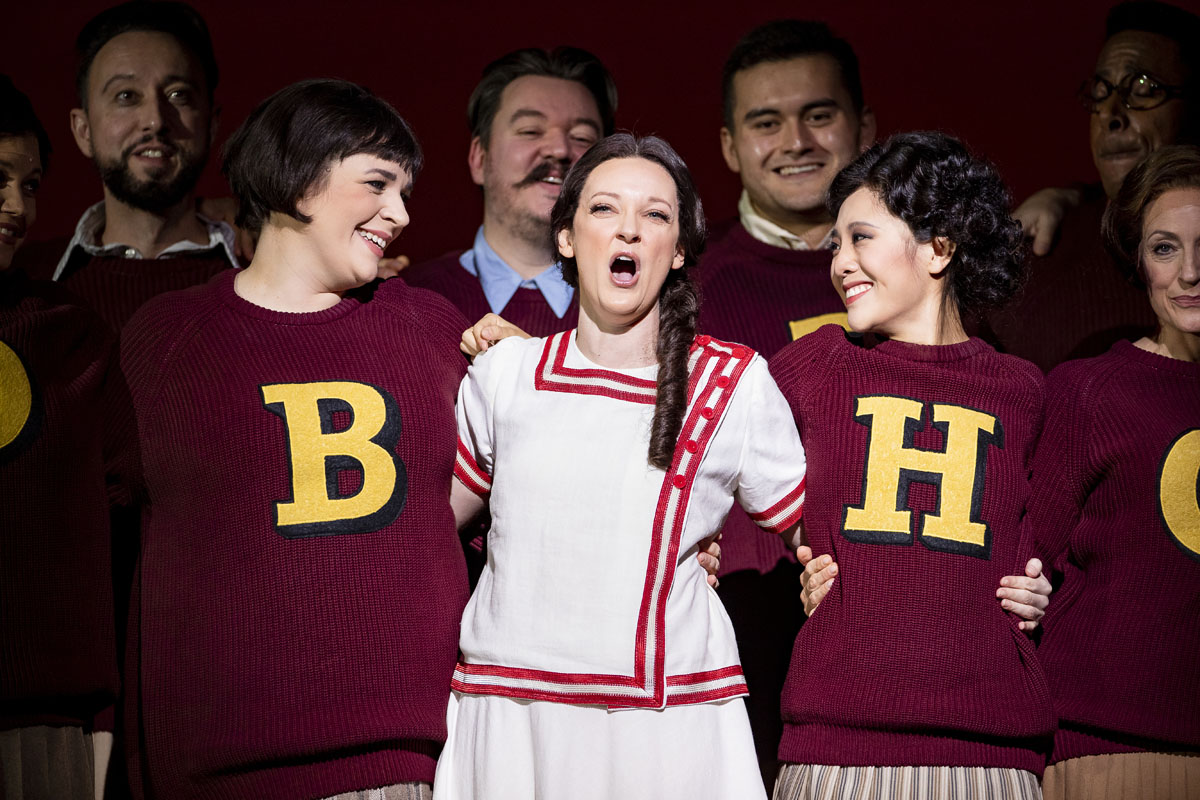 English Soprano, Jennifer France played Mary Hatch Bailey, George's wife.  As a small-town American beauty, she was charmingly innocent and her vocals managed to combine an alluring freshness with enough power to comfortably fill the auditorium.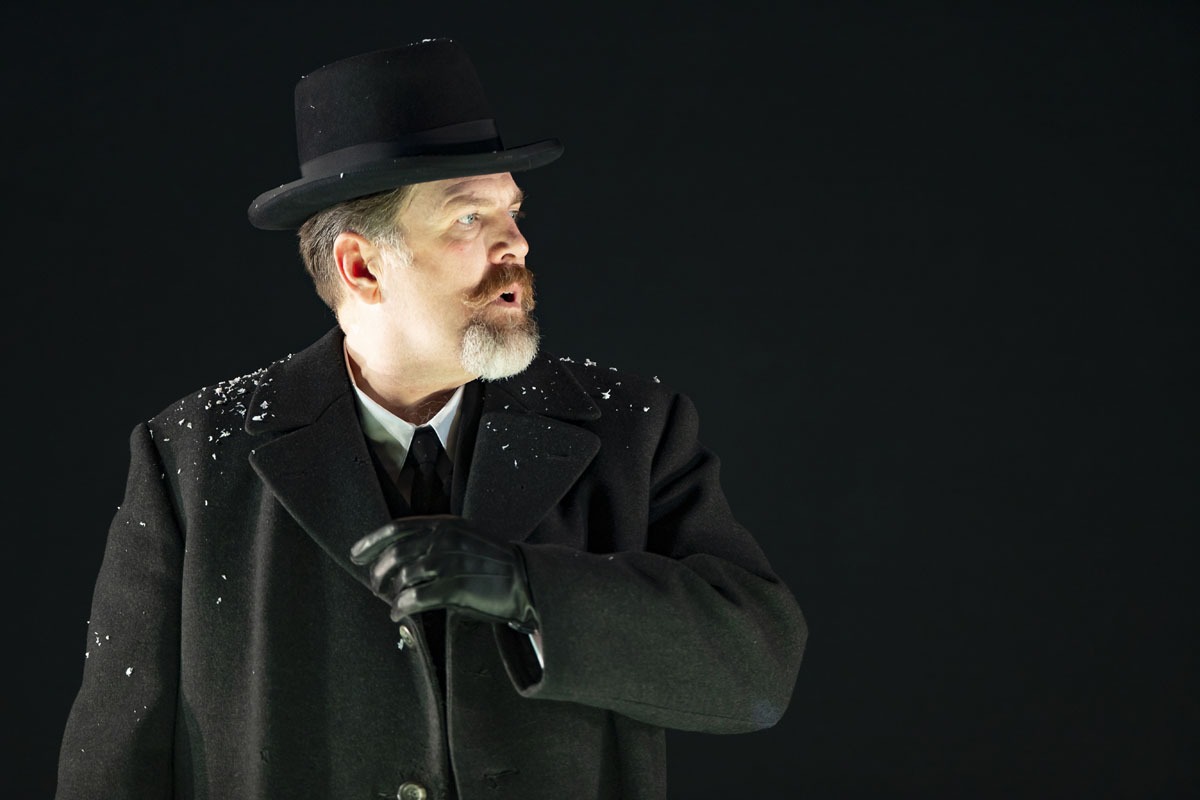 A famous conductor once remarked to me that it was far more of a challenge to stage a lesser-known work. This production of It's a Wonderful Life saw brilliant performances across the cast, with fabulous ENO debuts from Michael Mays as the evil Mr Potter (he even got boos at the Curtain Call) and Segomotso Shupinyaneng as Helen Bailey and with an exemplary chorus – acting, dancing and singing impeccably. The dulcet toned Angel Quartet comprised three of the current ENO Harewood Artists and British soprano Keri Fuge, making her ENO debut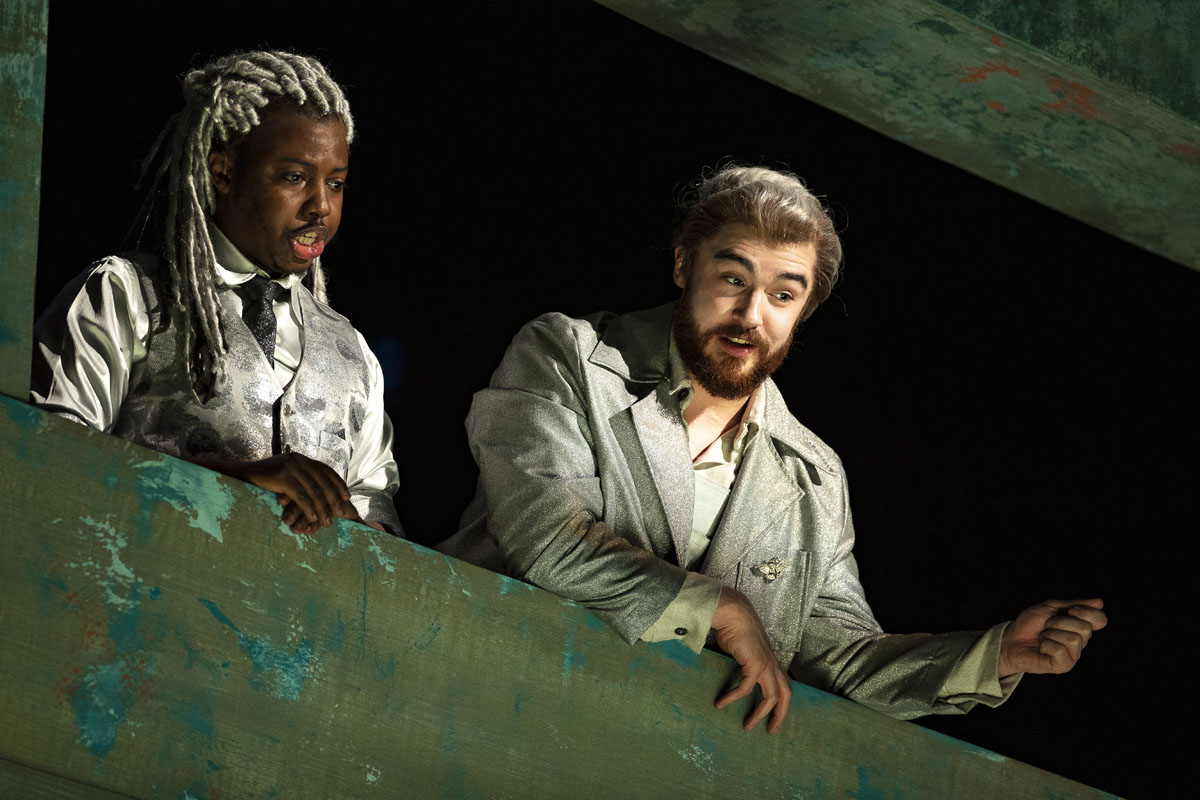 Directed and choreographed by Aletta Collins who studied at London Contemporary Dance Trust and was a former Associate Artist at The Royal Opera House, the staging was memorable and the movement worthy of any West End Musical.  In the orchestra pit, Nicole Paiement made her ENO debut, conducting an immaculate and well-balanced band.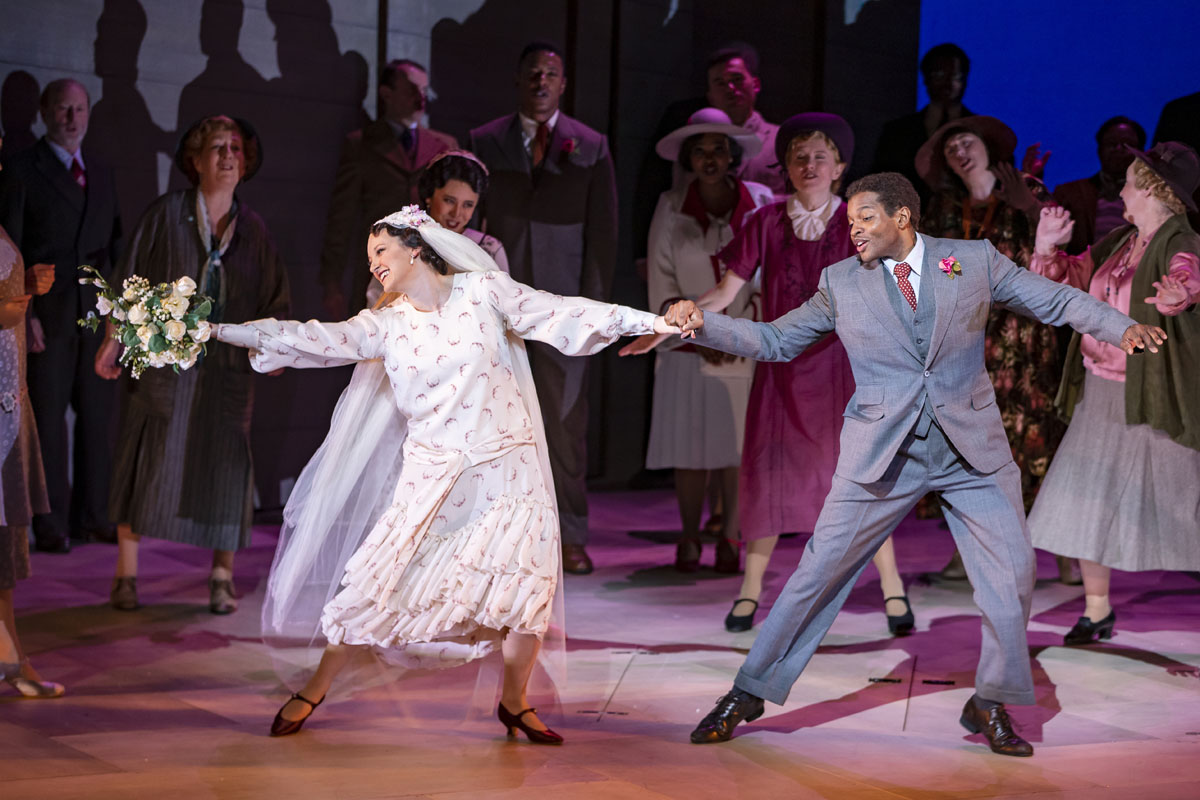 It's a Wonderful Life is a charming if saccharine story. Musically, Heggie's score is accessible with broad appeal but for me lacks a showstopping number. English National Opera has staged an excellent interpretation which should work for everyone from dyed-in-the-wool opera lovers to families looking for light entertainment at Christmas. And, that's some achievement.
25 November – 10 December 2022
Nov 25, 29, 30 & Dec 3, 7, 9 at 19.30. Nov 27 & Dec 3, 10 at 15.00
Relaxed performance: December 7th at 11.00
Check the English National Opera website for more information and to book tickets. Don't forget to find out more about the free and discounted tickets for those under 35 – and if you are going to the opera for the first time, English National Opera has a very handy guide about what to expect. All opera at ENO is sung in English, although they still show surtitles!
English National Opera
London Coliseum
St Martin's Ln,
London WC2N 4ES
Nearest tube: Leicester Square or Covent Garden