25 NOV 22 – 10 DEC 22, 10 PERFORMANCES: SIX EVENINGS, FOUR MATINEES. START TIMES VARY. RUNNING TIME C2HR 10MIN INCLUDING AN INTERVAL
The traditional American feelgood movie inspires an opera given its UK premiere at the Coliseum
By Claudia Pritchard on 26/11/2022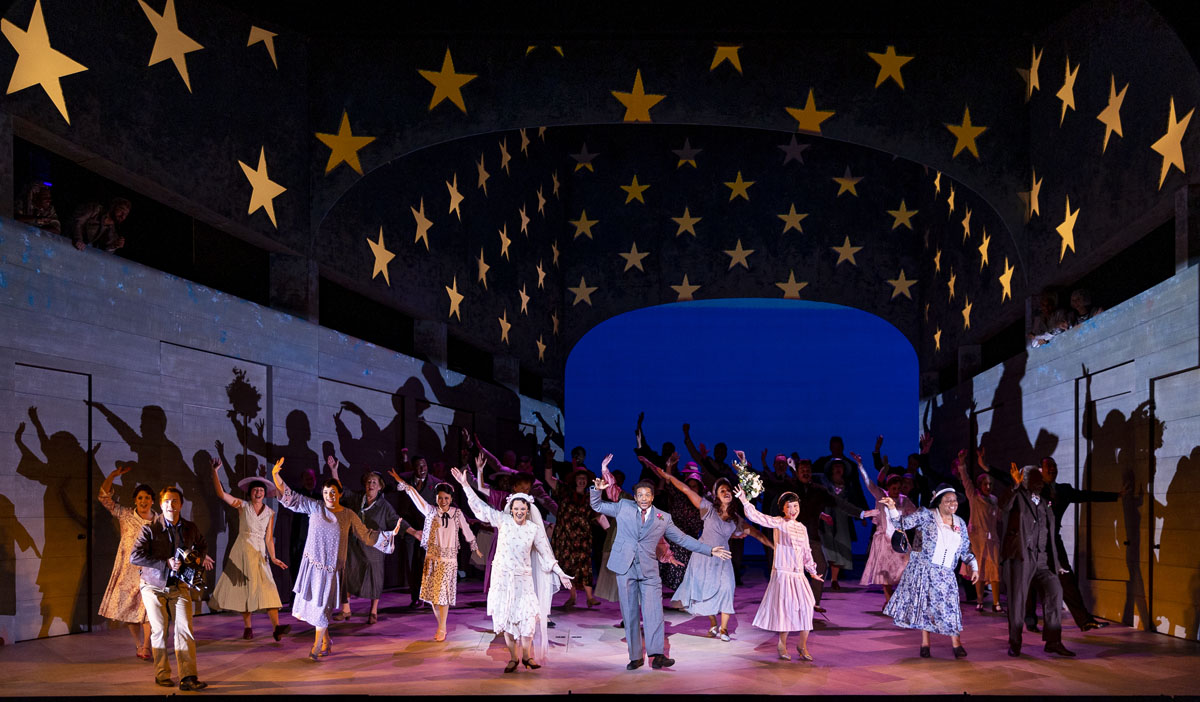 English National Opera, stripped of its funding, needs an angel right now and it finds one in sparkling soprano Danielle de Niese, star of It's a Wonderful Life, a joyous new work based on Frank Capra's film.
As Clara (rather than the 1946 movie's original guardian angel, Clarence), she lights up every scene with rapture, radiating the goodwill and optimism that the company, and actually the whole world, can surely do with. And does that make this opera in its UK premiere a cheese-fest? Well yes indeedy, and I love cheese, so just pass me the crackers.
Capra's film tells at great length the story of travel-hungry George Bailey, from his happy childhood and college days, through the years when his plans are thwarted by duty. Raising a family and running a small-town building society instead of seeing the world, he considers himself a failure and is on the point of giving up on life. Clarence, dropped from the heavens, shows him, by retracing the events of his life but without his interventions, that a George-less world would have been a poorer place.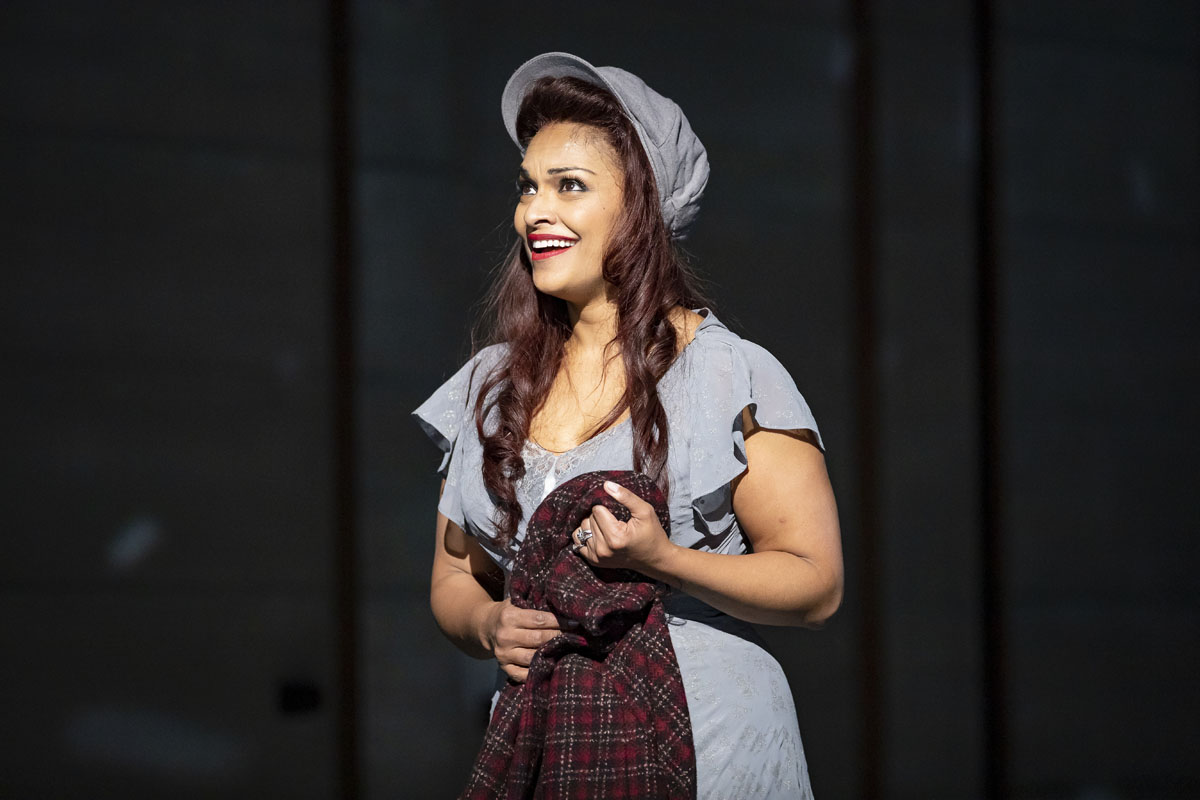 Jake Heggie's opera has a libretto by Gene Scheer that sticks pretty closely to the edited film script, with one major change. Instead of Clarence first appearing towards the end of the story, we start with Clara who, impatient to win her angel's wings, is plunged to Earth to save the desperate George. She is in every scene of his boyhood and adult years, powerless and invisible to others, but storing up evidence for her life-or-death mission.
De Niese broke the mould in 2005 with her out-and-out showgirl Cleopatra at Glyndebourne, in David McVicar's glamorous all-singing, all-dancing production of Handel's Giulio Cesare. So she slips effortlessly into the role of Clara, sassy, nippy and brimming with fun as she soars vocally over the earthbound.
Aletta Collins's cheeringly upbeat production plays out under a starry vaulted ceiling/sky in Giles Cadle's designs that take us through 20 scenes at home, school and work. The action rolls back the years from Christmas Eve 1945, giving costume designer Gabrielle Dalton the delicious job of dressing the characters for fast-changing decades, through the Roaring Twenties to post-war practicality. It's a lavish production, with a cast of around 60, with more than a dozen soloists and a nice bunch of kids.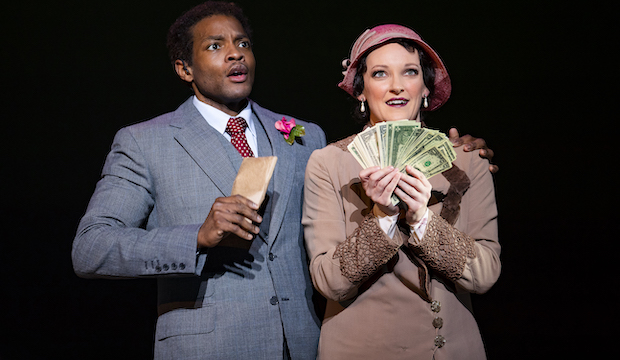 George is sung by Frederick Ballantine, last at ENO as Sportin' Life in Porgy and Bess. It's a fantastic performance, warmly sung, deftly danced and taut with the conflict between desire and duty. In soprano Jennifer France's Mary he has the perfect foil, the couple's selfless dedication to their community is expressed in uplifting song.
Heggie's is an original musical talent, spanning both musical theatre and operatic traditions, and with a back catalogue of works often inspired by other media, including Moby-Dick, based on the great American novel, and Dead Man Walking, based on the Oscar-winning film of the same name. It's a Wonderful Life, was first staged at Houston Opera in Texas in 2016, then, with revisions, in San Francisco in 2018.
His score teams with musical references to Hollywood, 20th-century opera, with sprinkles of Korngold, Gershwin, Sondheim, Bernstein. The music moves the action along and paints in the passing decades, with a new Charleston number and the invented Mekee-Mekee dance that George is practising ready for his thwarted travels to the South Pacific. There are no big numbers to sing on the way home, but lots of moments to like.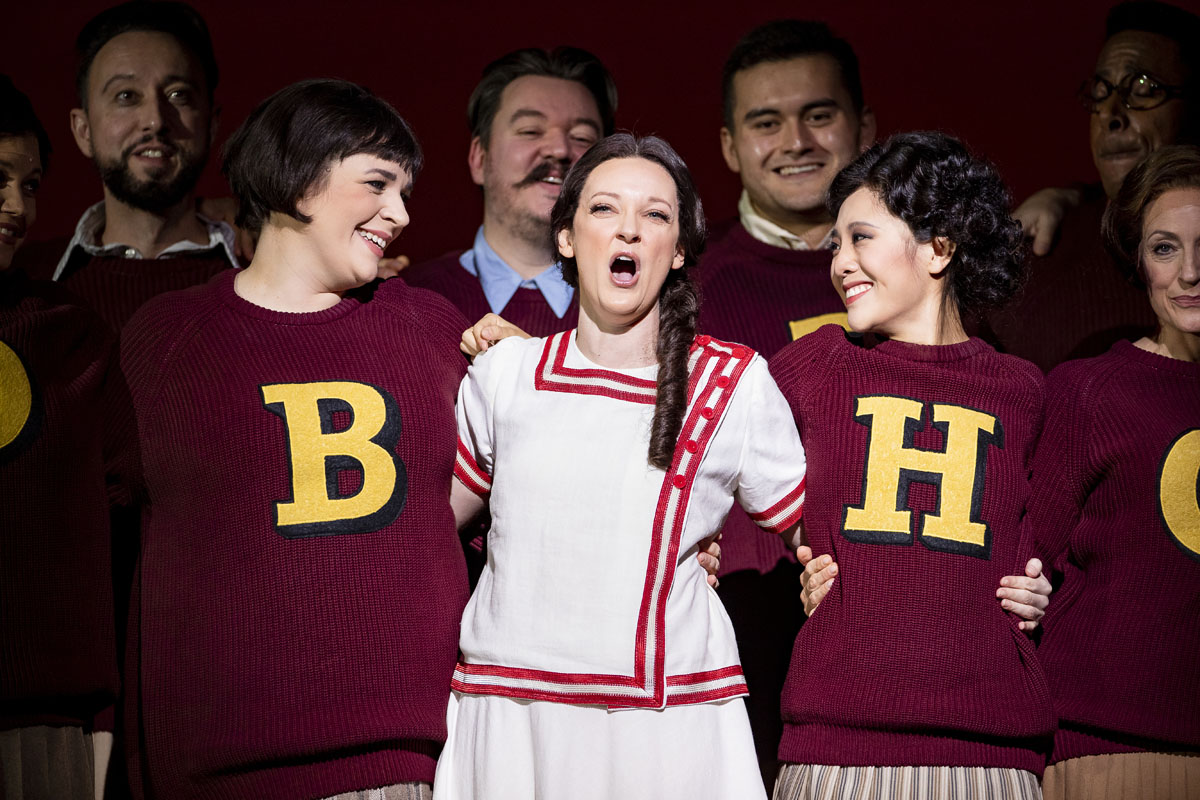 The big loss is the film's venal Pottersville. When Clara shows George what would have happened to his community, this neon-lit hell monetises Bedford Falls. The poorest, without the Baileys' dedication to helping folk buy a decent home of their own, would be living in the dangerous squalor that, to this day, can kill. Here, the villainous banker Henry F Potter, superbly sung by Michael Mayes, is a pantomime baddie with his Trump-tower golden doors, but today's Potters are everywhere around us, and they are not amusing.
Angels like Clara can dance on the head of pin over whether this is an opera or a musical. Thing is, doesn't matter two hoots. Fabulous voices, smashing dance numbers that leave you wanting more, and big-hearted playing from the Orchestra of English National Opera under Nicole Paiement make for a good night out. And the Secretary of State for Culture should know that there's nothing elitist about that.
It's a Wonderful Life is sung in English with English surtitles. Under-21s can go free; under-35s can claim reduced prices: click here for details
by Claudia Pritchard
WHAT It's a Wonderful Life, English National Opera review
WHERE English National Opera, London Coliseum, St Martin's Lane, London, WC2N 4ES | MAP
NEAREST TUBE Embankment (underground)
WHEN 25 Nov 22 – 10 Dec 22, 10 performances: six evenings, four matinees. Start times vary. Running time c2hr 10min including an interval
PRICE £10-£160
WEBSITE Click here for more information and booking