DEC 5, 2022
English National Opera 2022 Review: It's a Wonderful Life
Jake Heggie & Gene Scheer's Festive Yarn Goes for all the Fuzzy Feelings
By Benjamin Poore
Photo: © Lloyd Winters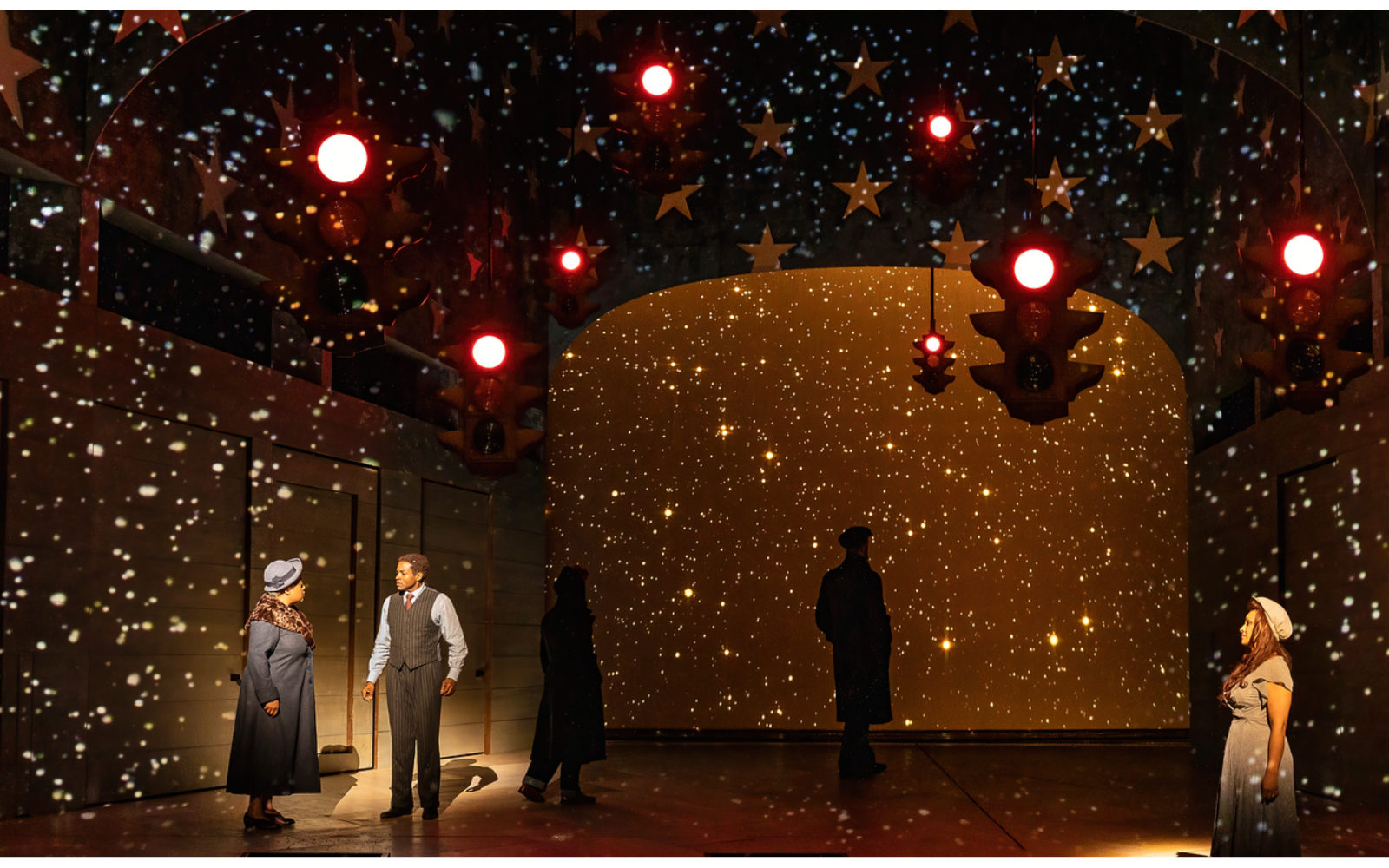 Unlike ballet, which has "The Nutcracker" as a festive staple, there aren't very many Christmas operas. "La bohème" opens on Christmas eve, and there is invariably snow, but yuletide is hardly the subject of the opera. ENO were scheduled to perform John Adams nativity oratorio "El Niño" during lockdown, but it sadly got canned.
Along comes Jake Heggie's "It's a Wonderful Life," a 2016 adaptation of the iconic 1946 Frank Capra classic, starring a hangdog James Stewart, previously seen in Houston and San Francisco, and here directed by Aletta Collins.
The most obvious transformation is the role of Clarence Oddbody – Angel Second Class, in search of his wings – into Clara, a soprano vehicle for Danielle de Niese (this is her ENO debut, though she appeared on the Coliseum stage previously in "Man of La Mancha" alongside Kelsey Grammer). What is lost is the world-weary patter of two run-down souls from the film, but what is gained is de Niese's magnetic, guileless charm and empathy – the heartwarming core of the show – as well as a playful goofiness that keeps it light.
The stardust opening is spectacular, with de Niese on a swing suspended from the flies, counting off prayers (a little like Mozart's great celebration of ordinary lives in "Le Nozze di Figaro"), before coming crashing down to earth as George teeters on the brink. As with the movie, we follow the formative scenes of George's life up to the critical moment of crisis, with Clara as omnipresent observer and narrator. We see George forgo his own dreams of happiness for the greater good of the community, staying home to run his family's co-operative bank to stave off Mr. Potter's predatory capitalism.
Slick & Well-Crafted, But Far from Perfect
Heggie's score is lush Americana, most material based on a funky jitterbug or a more lyrical refrain tied to Clara. There are obvious shades of Bernstein – in both danc-ey and sentimental modes – as well as shades of Samuel Barber's late Romanticism and the intuitive lyricism of Ned Rorem, who passed away this November. The declamatory word-setting bends towards musical theatre, whilst more Puccini-esque moments are found in Heggie's ensembles and the soaring writing reserved for George, his wife Mary, whose interjections are passionate and yearning, and Clara's celestial soprano.
It doesn't scream originality – and certainly doesn't bend "contemporary" in a city that has recently seen new operas by Oliver Leith and Laura Bowler. Occasionally a little sand gets into the harmony, which is welcome indeed and allows the film's emotional pins to prick a little more. But the filmic sweep is absorbing enough and will delight the ears of most audiences.
The show is slick and well-crafted, with lighting (Andreas Fuchs) and projections especially impressive, creating a sense of haunting emptiness and otherworldly wonder by turns. Aletta Collins' choreography is playful and sharp, with chorus and cast taking to it with enthusiasm, especially at the Bedford Falls' high school dance and at George's wedding. Giles Cadle sets the action under a painted roof of stars, rather like a medieval cathedral, which plays host to home, bank, and street scenes as needs be.
Themes are laid on thick as festive icing in both design and text (libretto by Gene Scheer): Potter's bank is a big green dollar bill; the double entendres of fortune and misfortune in the text ("I never thought this would happen to me") are telegraphed unfailingly by score and word-setting; traffic lights descend from the flies to mark points where lives are stopped or diverted from roads not taken.
It is the ordinary moments of sacrifice, frustration, and missed opportunity that are most poignantly articulated by the piece – the things that make our lives such wonders, even when they are sad. (Kieron Rennie's spoken word poem before the show set this up well.) This is not subtle, but it is humane, festive, and carried off with warmth and style. Casting Bailey and his family with Black performers intensifies the US-specific class dynamics that pervade the work; ENO again leading the way with diversity onstage in ways other UK companies can only aspire to.
The piece is far from perfect, and warrants further revisions. One of the most atmospheric sequences of the movie – when George is given a vision of a run-down Bedford Falls in which he never existed – sees opera turn into a play, with too much shouted dialogue raced through and disturbing the dramatic rhythm and impact of the play, and the scene feels oddly-placed. The cod-patriotism of the wartime chorale is saccharine – what's new? – but cheaply felt. On a more practical level, Heggie labors lines of text in ensembles and arias that deadens their impact rather than intensifies and complicates their feeling; the scene where George appeals to Bailey for help sports clunky dialogue where little is needed, given how well their relationship and world views are established.
Stars of the Night
Danielle de Niese fills the stage, both in terms of sound and big-hearted characterization, and Heggie's sparkling writing does not faze, even when she's suspended from the ceiling. The character is relatable, but the bright crystalline soprano is otherworldly.
Frederick Ballentine is given an awful lot of work to do vocally as George, and carries it well, with voice well-calibrated to character. His early scenes with wife-to-be Mary channel the raw strength and uninhibited character of his tenor into an authentic ardor and hunger for life; as things worsen it is equally effective a vehicle for desperation and despair.
Jennifer France has a more earthy, careworn sound than de Niese's Clara in her tender portrayal of George's wife Mary, and compels throughout.
Michael Mayes has an icy command as the baritonal bad guy Mr. Potter, and is a vocally imposing presence that hints at the cold darkness of his worldview.
Ronald Samm gives a rounded performance as the haphazard Uncle Billy, with a palette of vocal colours varied enough to hit both comic and tragicomic musical beats.
Bass-baritone Donovan Singletary also piles on the charm as Harry Bailey.
Gweneth-Ann Rand is criminally underused as Mother Bailey but the voice is nonetheless warm and glowing, full of wisdom and authority.
A quartet of Angels – Ossian Huskinson, Keri Fuge, Zwakele Tshabalala and Idunnu Münch – oversee the action, providing chorus-like interjections with mysterious authority.
Nicole Paiement, an experienced Heggie collaborator, draws out the best of the score with the ENO orchestra, and makes the most of the most archetypically operatic climaxes, with especially indulgent playing from the strings.
The ending when Clara gets her wings is unbelievably tacky, and completely fabulous; cast and audience then sing Auld Lang Syne. A Christmas opera? Only time will tell. But a box office hit for beleaguered ENO, who are coming out swinging against budget cuts, could provide the company with a guardian angel.