Matthew Aucoin's Music Allows Sarah Ruhl's Voice, & Eurydice's, to Shine
By Ryan Isao Shiotsuki  FEB. 24, 2020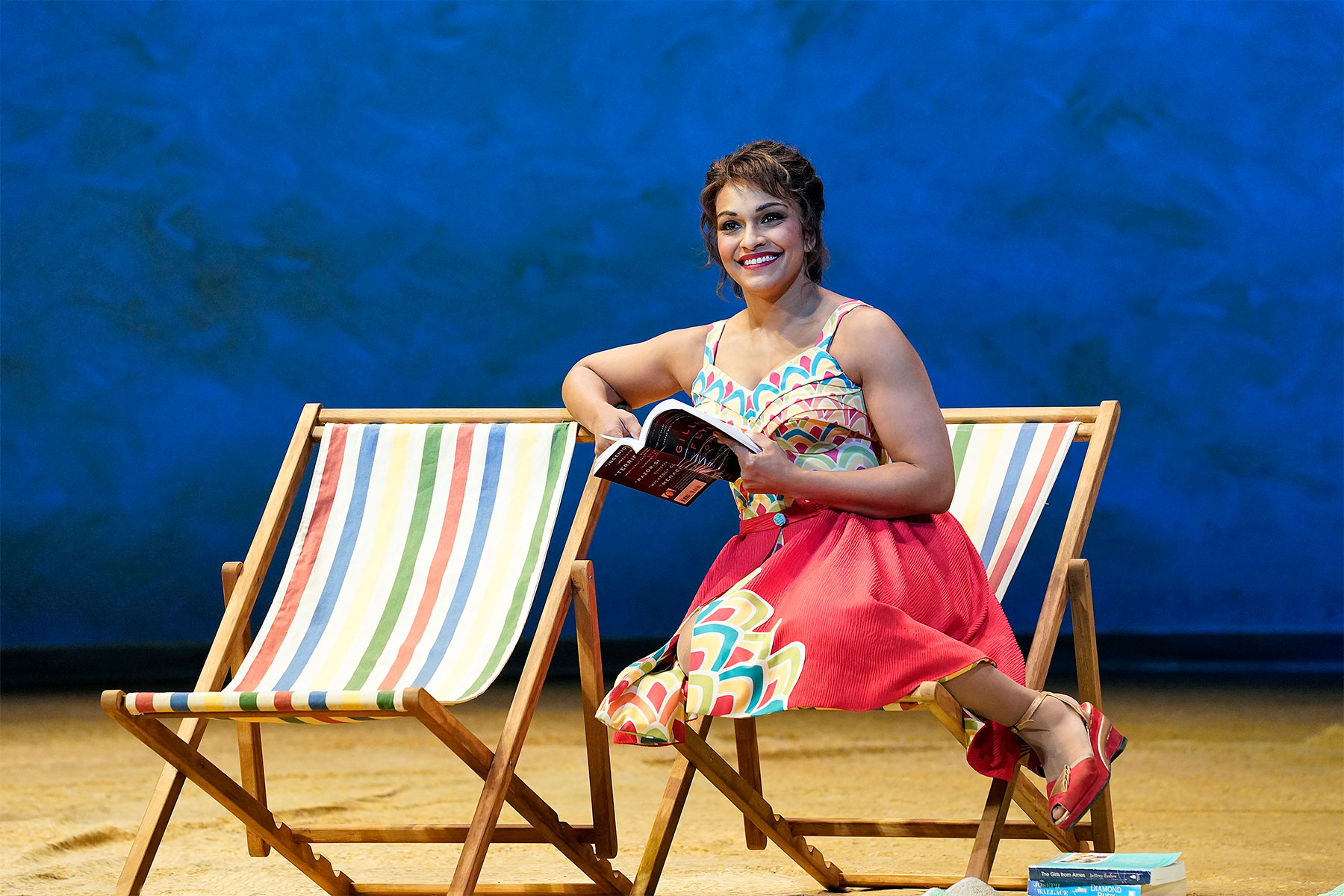 There is a famous painting by Gustave Moreau called "Thracian Girl Carrying the Head of Orpheus on His Lyre" from 1865. The foreground shows exactly what the title describes. The background is harder to make out: some people are gathered on a cliff, one of them playing an aulos. Small tortoises walk near the Thracian woman's feet, happily sauntering about and not attached to any lyre.
But the decapitated head of Orpheus—pale, yet seemingly content—demands your attention, shocking you with its presence and importance.
The fate of Orpheus was gruesome: torn to shreds by Maenads, followers of Dionysus, his head singing as it floated down the River Hebros. But what of this Thracian woman in the foreground, nameless and sullen in expression, cradling the head of our hero? Orpheus' soul would later be reunited in the underworld with his beloved Eurydice, her presence an afterthought until Orpheus' tragic end as martyr of music. The tale of Eurydice, like this Thracian woman, is unheard, voiceless, but is present nonetheless, silently carrying the great weight and burden of a musical man's story.
A New Perspective
"Eurydice," an opera composed by Matthew Aucoin, written by Sarah Ruhl, and directed by Mary Zimmerman, premiered February 1, 2020 at the LA Opera with the express intent of giving musical voice to Eurydice's forgotten narrative.
Sarah Ruhl already produced her successful play from 2003 and it was only a matter of time for this retelling to find its way to the operatic stage, seeing as there is a long tradition of setting Orpheus stories to music. One of the first surviving operas was composed by Jacopo Peri in 1600, and it shares the same title, "L'Euridice." Countless operas and musicals have followed, from Monteverdi to Gluck, Offenbach to Glass.
Aucion, an artist-in-residence at the LA Opera and a 2018 MacArthur fellow (an honor he shares with Ruhl and Zimmerman), took a bold step in setting Ruhl's play, even as he has explored similar territory in his cantata "The Orphic Moment." The expectations for this operatic production were inevitably going to be high—too high even, especially for such a relevant topic today. However, with a prodigious talent as Aucoin, musicians and critics would hardly anticipate anything less than throwing oneself headlong down a cliff with the expectation of flight.
In terms of Aucoin's own compositional style, this is a very conventional presentation for a new opera in the 21st century; the orchestra hits all the right notes, so to speak. There are overt and subtle allusions to many famous, important composers, from Vivaldi to Bach, Ravel to Debussy, Adès to Glass…the list goes on. Aucoin comes across as indulgently aware that his own talent and technical precision will give him safe passage: the music is beautiful, exciting, funny, frightening, frustrating, melancholy—pretty much hitting all the expected check marks.
He presents a textbook work that would make any university or conservatory composition professor gush. In the already-dangerous task of setting a difficult topic, Aucoin seems to be willfully playing it safe. And why wouldn't he? In our polarized political moment—where the 2020 presidential elections loom around the corner, with Russian hackers trying to sway votes on Twitter and Facebook, where divisive trolls try to muck up the clarity surrounding freedom of speech while simultaneously trying to control the narrative of what actually counts as "fake news"—it would simply take one Mephistophelean agent to transform this Greek theater into "Kabuki Theater" at the composer's expense.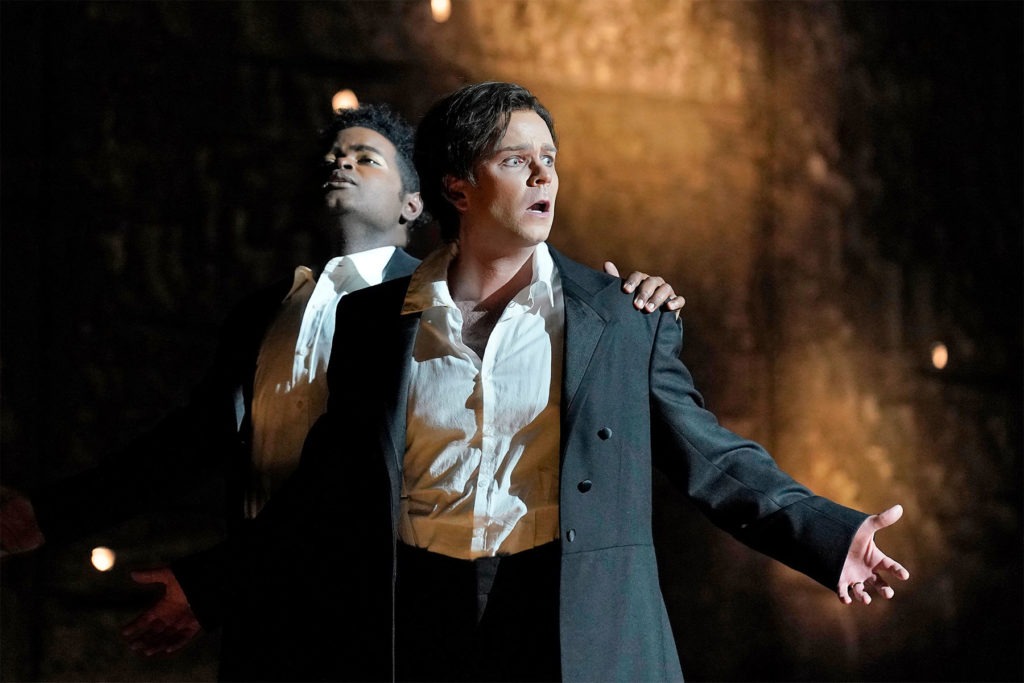 But it might be worth pausing for a moment, especially before dismissing Aucoin's setting as benign, or, worse, banal. While there is always going to be a search for something new and avant-garde, this era has seen a bothersome discourse regarding new composers that expects cutting edge work while covertly wishing to perpetuate old roles, stereotypes, and postures of seriousness that do not match the present day. Too often we expect composers to enthrall us with innovation, leading from the vanguard. Such expectations demand the limelight. In opposition to this, Aucoin does a fairly remarkable thing with his compositional style. He steps aside. Sarah Ruhl's star and narrative shine much brighter than his music in a rather vital way: their collaboration compels you to hear her Eurydice far more than his Orpheus.
If we choose to look back, we can see as early as Beethoven's 1808 concert (the premiere that included his 6th and 5th symphonies and 4th piano concerto) a tradition of male composers often casting themselves in the Orphic countenance. But where Beethoven implores his bourgeois audiences to search for their subjectivity through his absolute music, that particular role and method may not work the same way when times and people have changed. If Aucoin has no choice but to be thrust into the role of avatar for Orpheus by his peers and critics, it is no wonder his music defers to Ruhl's Eurydice. If he did not do this, the point of the narrative would fail.
But this does not mean that Aucoin's hands are tied from subtlety. On the contrary, he can cleverly explore his own conflict with Orphic identity while at the same time showing off his textbook, conventional style. A carefully placed allusion to the opening of Mahler's first symphony, for example, masquerades as a typically postmodern quotation, but easily transforms into Mahler's own maximilized, Orphic invocation of Beethoven's 4th symphony.
The music Aucoin presents not only lays bare the hegemonic, suffocating role perpetuated in 21st century symphony halls, but also exposes a troublingly ambivalent representation of Mahler as it pertains to the subject of his wife Alma's search for agency when her creativity and subjectivity felt stifled. The double transformation of Beethoven's descending cello motive falls further into a menacing downward descent to Hades' Underworld, which tangentially refers to—and concurrently backs away from—an obvious reference to Ernst Krenek's "Orpheus und Euridike," an opera with Oskar Kokoschka's libretto passionately depicting his feelings for Alma.
And if that was not subtle enough, the sheer obviousness of the Mahler quotation doubly tests its own veracity, nullifying such a reflection as an over interpretation, or mere "false narrative." Like the Orpheus in the opera, Aucoin can "sing the part convincingly" and not be the lead role at the same time.
Eurydice's Voice
When looking at the advertisement in the stagebill for the 2019-20 opera season, only the old composers (Donizetti, Handel, Debussy, etc.) sit alone without their collaborators. In hearing and seeing this opera, it is especially more poignant that Aucoin not only shares less of the spotlight, but that instead it is Ruhl's voice that stays in our memory.
The myth of an "Orpheus" as the only archetype for the author, composer, musician, and hero for all our stories is tired and old. The spotlight on Ruhl does nothing to take away from Aucoin's talent and work. Moreover, no one is taking away Orpheus, Beethoven, Mahler, or anyone else. But there is an important shift happening across literature, music, and the arts.
Like Ruhl's "Eurydice," Madeline Miller's 2018 novel "Circe" takes us on a similar journey, exploring the character of Circe in the Odyssey from her own perspective, rather than a one-sided view from Odysseus. And on the concert stage, we see these changes especially with the successes of composers like Kaija Saariaho, Gabriela Frank, Unsuk Chin, Jessie Montgomery, Dobrinka Tabakova, and many others.
When looking back at Eurydice, will she be remembered or whisked away into the abyss? This may depend entirely on us.
In Ruhl's story, Eurydice does not disappear as a result of Orpheus loving her too much. She leaves because she has the audacity to call out to him. Ultimately, he is unwilling to accept that she is not "his possession." As he says early on, he wishes to play his music with her hair. She is his muse first and foremost, above even their companionship together.
And, in his head, her great sin was to be more than the body of his music—and that she would dare call out to make her voice heard, rather than simply walk behind him. There are no spoilers in this opera. Everyone already knows what happens in the end.
Musical Forces
With Aucoin himself conducting, the performance began with an affable overture that placed us on the beach with a set design immediately reminiscent of LA Opera's production of Glass' "Akhnaten." The orchestra was in top form under the composer's baton, but more important was their role supporting the radiant star of the show, Danielle de Niese, who brought more than just the sympathetic Eurydice from far more familiar roles. Niese's Eurydice sang with a confident yet genial air that brought warmth yet firm resolve to her character.
Joshua Hopkins' Orpheus was perfectly arrogant in his delivery, with clarity and bravado expected of the role. I was taken aback, however, when hearing the countertenor role of Orpheus' Double, sung by John Holiday. The concept itself, as Aucoin describes, splits Orpheus into a role comprising two parts, the "real" human baritone and the supernatural, god-like countertenor, a nod to seventh-century castrato parts like Handel's "Giulio Cesare" and Nero from Monteverdi's "L'Incoronazione di Poppea." Holiday's voice was often overpowered and overshadowed by Hopkins' baritone, in a way that seemed unbalanced. This struck me as particularly unusual considering other performances of Holiday's have come across with clarion-like power and virtuosity.
It then occurred to me that this was actually more a matter of how the baritone and countertenor parts are written together, that Orpheus' "real" self is meant to overpower his Double. We see this especially in their roles on stage. This decision by Aucoin came across as rather perplexing. A far more expressive and present countertenor part with dangerously exciting coloratura runs would have made the need for Orpheus' Double seem more necessary, like an ongoing battle between Orpheus' ego and id.
Rod Gilfry's role as the father was executed in a wonderfully sympathetic style reminiscent of Sarastro from Mozart's "Magic Flute." Other stellar performances by the rest of the cast, the three stones in Raehann Bryce-Davis, Kevin Ray, and Stacey Tappan, brought much-needed comic relief, while Barry Banks' Mephistophelean Hades grew more irritating (in a good way), starting off amiable and becoming a vaguely Trumpian caricature.
Generally, the opera company presented an excellent rendition of the work. If Sarah Ruhl, Mary Zimmerman, and Matthew Aucoin are seeking to present a completely new operatic experience, they have effectively done so, while maintaining old integrities. But to hear Eurydice's voice in the Orpheus myth will never be their job. That is the task of the audience and what they are willing to accept. And if we wake up from these dreams and myths, we may never have to look back again.