This evening at 7pm, tune into the premiere of Handel's masterpiece, a collaboration between the Royal Opera House and the Royal Ballet
By Danielle de Niese
Friday 3 April 2020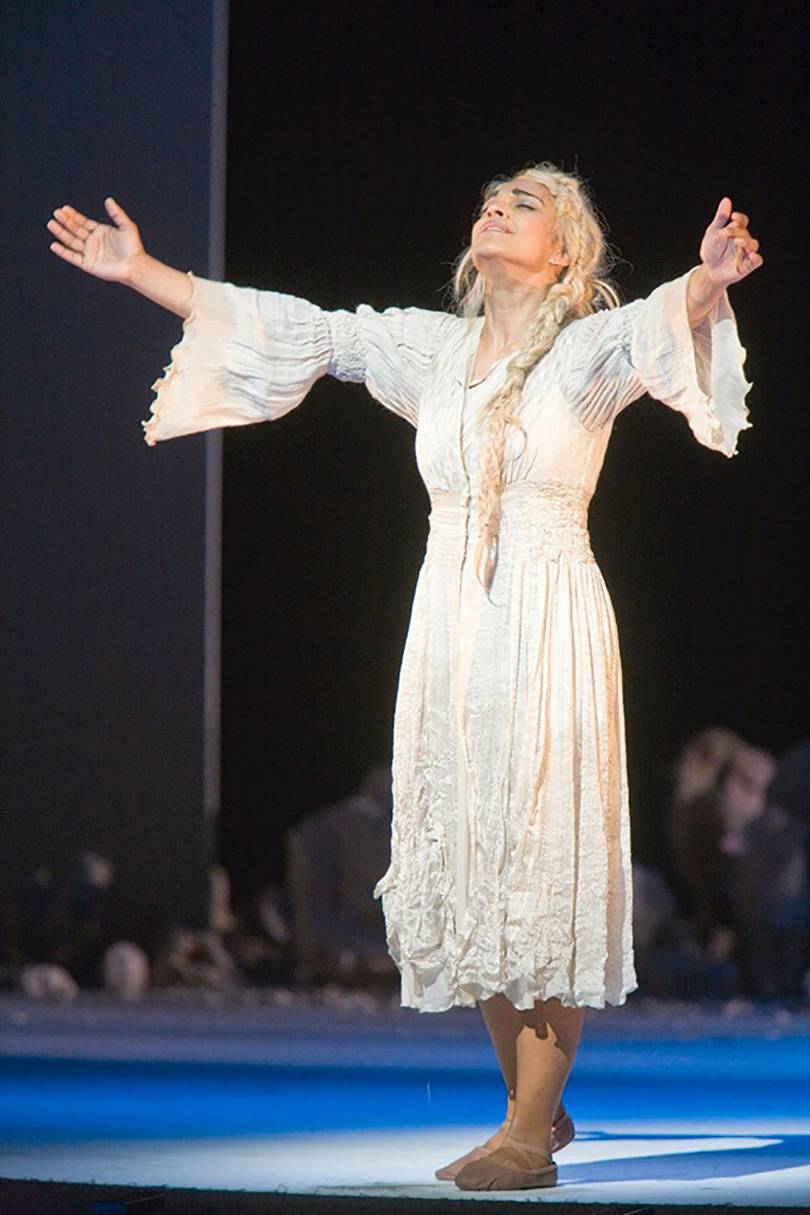 Acis is in Love with Galatea
But the Monster, Polyphemus, also loves her.
In a jealous rage, and spurned by Galatea,
Polyphemus hurls a boulder at Acis and mortally wounds him.
Grief-stricken, Galatea uses her magic powers to change her dead lover
into a stream that will flow eternally…
A one act opera sung in English; and never has Handel looked so chic.
I am so happy the Royal Opera House is streaming Acis and Galatea. It made history as the first ever collaboration between two of the UK's most iconic companies, the Royal Opera House and the Royal Ballet. It's directed by the Royal Ballet's brilliant choreographer and director, Wayne McGregor, and conducted by the late Sir Christopher Hogwood and for me, it was one of the most important milestones of my career. It was my debut at Royal Opera House Covent Garden, a dream come true.
Handel's score is divine. To me, it sounds sonorously as pure as nature itself and I always felt pure happiness when I sang Galatea's music. But Handel was so good at twisting the plot on the width of a dime, and when things turn tragic for Galatea – her heart pours out through all the beautiful Handelian expulsion of grief and sorrow — it was almost too much to bear to sing the end of the opera each night. I remember never leaving a show without feeling the juxtaposition between the heavy burden of grief and the selfless act of letting your love go.
One of the things I love about this show is how modern it is. The costume designs and look for Galatea were straight out of the pages of a Vogue forest photo shoot. I am a brunette but for this show I was made into a blonde with strong eyebrows – which are de rigeur today – and the looks feature lots of rich textured fabric and minimalist design which, 11 years later, render them timeless and effortlessly chic.
Though Acis and Galatea are young and in love, the story is actually about a love triangle – the third wheel is the monstrous Polyphemus, whose passionate love for Galatea turns fiery and deadly when she rejects him. It's as tragic a story of unrequited love and jealousy, and the heartache that ensues, the power of human emotions and what can happen if we let our emotions get out of control. We can all relate to the suffering and heartache of losing a lover but it is worse if the loss is through the evil actions of someone else.
Working with director Wayne McGregor was a delight, he is such an easy person to be around and he brings the highest standard out of all his performers. To dance with principal dancer Ed Watson of the Royal Ballet was daunting and exhilarating at the same time, especially not being a ballerina. My last ballet lesson was when I was at 9! The whole experience was a highlight of my career.
Galatea's last aria "Heart, the seat of soft delight" is the most heartbreaking, and at the same time it is thoroughly empowering. When Galatea discovers that her love, Acis, is dead and feels she cannot go on without him; she bravely decides to make something good out of something bad, exerting her divine powers to transform him into a fountain. She immortalises her beloved forever, his love murmuring alongside her like an infinitely flowing stream.
I think that's what we can take away from this piece – that even in tragedy, there is an opportunity for hope and light… if we choose to see it.
Tune in via the Royal Opera House's YouTube or Facebook account tonight at 7pm to watch.