The show with the direction of Giovanni Antonini and directed by Robert Carsen marks 12,000 tickets sold and over 85% of coverage on the 7 replicas
The new production of Julius Caesar in Egypt by Georg Friedrich Händel with the direction of Giovanni Antonini and directed by Robert Carsen is already a public success.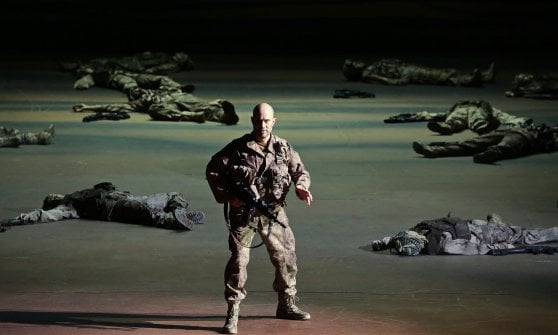 For the seven performances from tomorrow 18 October to 2 November, the ticket office registers more than 12,000 presences, with a filling percentage that exceeds 85%. The first two performances and the dates close to the weekends are rapidly approaching full house. Certainly due to the popularity of the director and director and the cast, alongside the protagonist Bejun Mehta, already beloved in Milan after his performance as Tamerlane in 2017, he lined up three important artists who debuted in our theater (Danielle de Niese as Cleopatra, Philippe Jaroussky as Sesto and Christophe Dumaux as Tolomeo) and two certainties as Sara Mingardo and Christian Senn, but also a new awareness of the importance of this repertoire.
The interest in Händel's masterpiece puts Milan in dialogue with the European panorama, in which the Baroque work is regularly included in the programming with constant feedback from the public. The presence of the great Händelian titles at La Scala is reduced to just six titles in the post-war period (plus two at the Piccola Scala). It was Gianandrea Gavazzeni who attempted a pioneering Giulio Cesare in 1956: but only in 2009, with Alcina created by the couple Antonini – Carsen, did La Scala present a philologically reliable Händelian show. The next step is the birth of a Baroque ensemble within the Orchestra which is dedicated above all to Handel with The Triumph of Time and Disillusion directed by Diego Fasolis directed by Jürgen Flimm in 2016 and Tamerlaneagain with Fasolis and directed by Davide Livermore in 2017. Tamerlano marks a turning point: for the first time at La Scala the parts written for castrato voices are entrusted to counter-tenors, just like in the Julius Caesar in Egypt on stage tomorrow.
A long journey that together with the symphonic-choral and concert activity of La Scala but also of other Milanese realities has increased the interest and sensitivity in this city for this repertoire. In the coming seasons the baroque project of the Teatro alla Scala includes two other titles by the Saxon composer: Agrippina and Ariodante .