by Silvia Luraghi
Handel: Giulio Cesare in Egitto
Teatro alla Scala, Milan
2 November 2019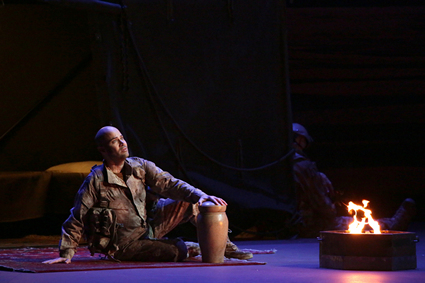 Baroque opera at La Scala has experienced a hard life over the years, and Handel's Giulio Cesare in Egitto is a case in point. It reached the Milanese stage for the first time in 1956, and only for a short round of four performances that were met with perplexed reactions from contemporary critics. After Handel's work became obsolete in the course of the 19th century, 20th century revivals featured a score that was adapted to the taste and the tradition from Romantic opera, and La Scala's 1956 production was no exception, featuring bass Nicola Rossi-Lemeni in the title role.
The current production, then, constitutes a welcome opening of the company to the baroque repertoire and it did justice to the vocal and musical score, by featuring a cast of singers trained in baroque singing with the La Scala orchestra playing on original instruments conducted by a renowned baroque specialist Giovanni Antonini.
Director Robert Carsen also deserves a share of the credit for the great success of this production. The curtain rises in the middle of operation Desert Storm, where Giulio Cesare reaches the troops in a military jeep and reviews his soldiers. He has just promised Cornelia indulgence for her defeated husband Pompeo when Achilla, dressed as an Arab leader, enters in a luxury car to bring Cesare the rival's head.
In the Egyptian palace, Tolomeo and Cleopatra are discussing war plans in military apparel. When Cesare visits the palace, the Roman soldiers carry some Fendi material as a gift for the Egyptian king. Carsen also pays tribute to earlier Cleopatras by showing a short selection of movie stars in the role, among which of course is Elizabeth Taylor.
Cleopatra easily seduces Cesare, who, after surviving Achilla's attempts to kill him, sets her on the Egyptian throne. In the meantime, Cleopatra has turned into a career woman, and signs a contract with Cesare for a new oil pipeline. Tolomeo has been killed by Sesto, who avenged his father, joins Cesare who proclaims the glory of Rome and points out that Egypt will be able to enjoy freedom under the protection of the Romans.
The production featured no less than four countertenors. Bejun Mehta in the title role was an authoritative Cesare, though not as authoritarian as one might have expected. He looked rather baffled by the actions and intrigues of the Egyptians, that he had a hard time understanding.
As his opponent Tolomeo, Christophe Dumaux showcased an impressive volume of voice for a countertenor, with perfect breath control, and had a conveniently fierce look.
Philppe Jaroussky was cast as Sesto, a role which was originally written for a soprano. Jaroussky's Sesto was a highly irascible teenager, with an acute, somewhat unpleasant timbre, who nevertheless mastered the score flawlessly. Still, I thought that casting a soprano as in the original score would have created a convenient difference between Sesto, who is and should sound younger, and the adult males who were interpreted by countertenors.
Finally, Luigi Schifano also fared well as Cleopatra's servant Nireno.
The production should have been a vehicle for Cecilia's Bartoli return to La Scala, but as is by now well known the singer cancelled shortly after the company's administration decided to terminate general manager Alexander Pereira's contract, raising complaints by patrons who had already bought their tickets. Happily, as her replacement, soprano Danielle de Niese did not disappoint: her agile, nicely colored voice sounded at ease in the coloratura, and her stage presence was perfect for the seducing Egyptian queen, who she portrayed as a skilled and cunning player in the struggle for power with her male counterparts.
Contralto Sara Mingardo gave a tasteful and touching rendition of Pompeo's wife Cornelia, while baritone Christian Senn was a very good Achilla. The cast was completed by baritone Renato Dolcini, an idiomatic Curio.
Maestro Giovanni Antonini provided a perfect lead to the orchestra and the singers, with an elegant touch and lively, tightened tempi. I saw the last performance, and found the house completely full. The audience responded enthusiastically to the singers' performances with frequent applause after the arias and several minutes cheering at the end, in spite of the length of the performance.