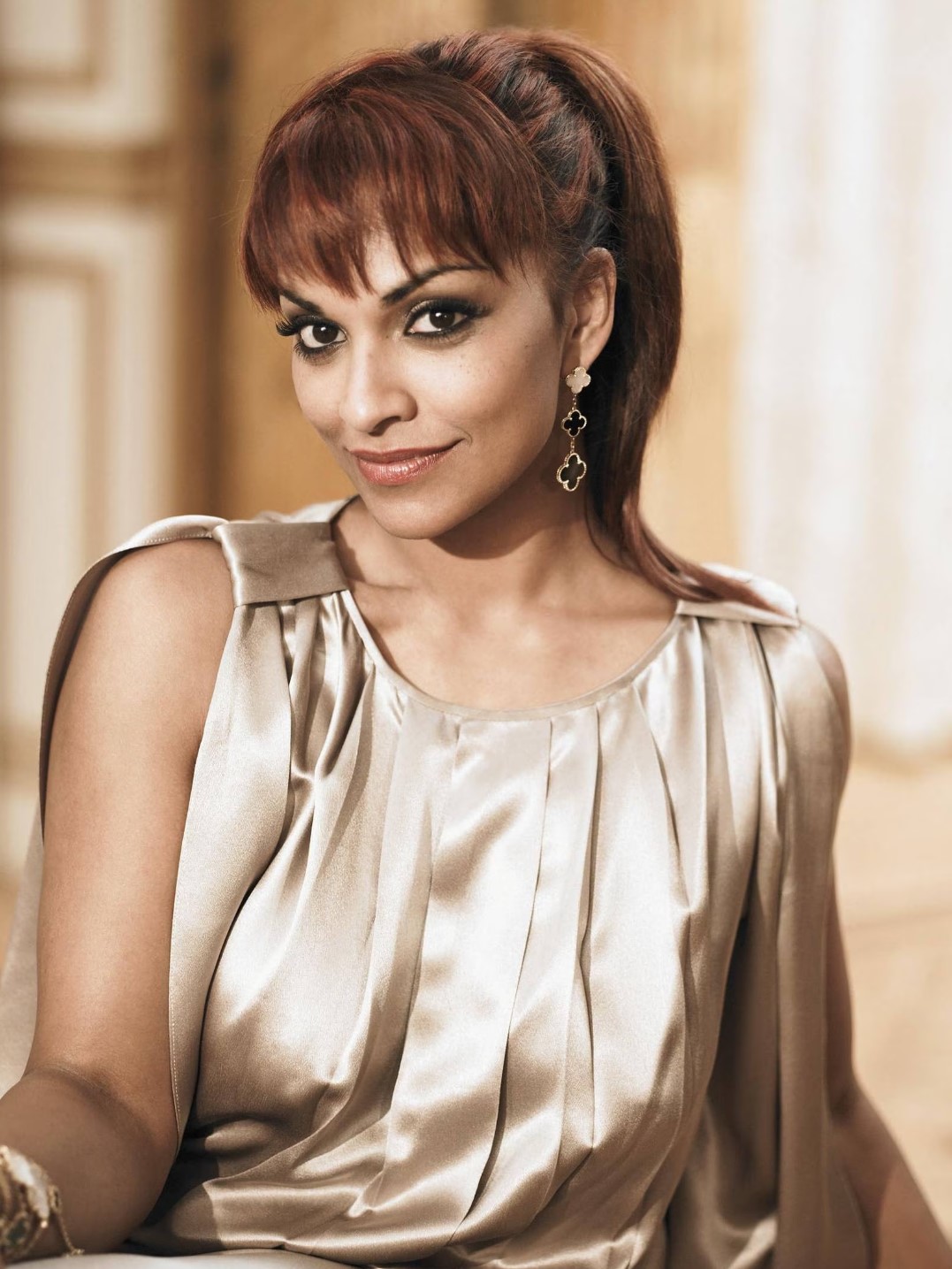 Michael Dervan
Mon Jan 23 2023 – 05:00
Australian-American soprano Danielle de Niese, Danni for short, is one of those voluble, vivacious communicators talkshow hosts love. Who everyone loves. It probably helps that she has been in the public eye for so long. She won an Australian TV talent competition, Young Talent Time, in 1988 aged nine with a Whitney Houston medley, and a Los Angeles Area Emmy Award in 1995 for hosting the TV show LA Kids.
She's a former prodigy without any regrets. "I've always felt, even when I was nine, 10, 11 years old, that I wanted to be singing into my old age, that I wanted longevity in a career, that I didn't want to do any starburst-type thing. I've had lots of different things placed in front of me that have been very tempting and very wonderful. The art of saying no is something that has come to me over time."
She also gives credit to the people around her, her parents and her first manager, Alec Treuhaft, who understood "that I wanted to be a singer my whole life. At the age of 18, when I met him, it was 10 years since I'd decided I wanted to be an opera singer – more than half my life."
La Voix Humaine is a very, very theatrical piece. It's a one-woman show, about a woman's final phone call with her lover who has left her. There are really upsetting themes in it of suicide and depression— Danielle de Niese
The people closest to her, she says, which included her voice teacher, Ruth Falcon, "were very, very conservative" about handling her career. As was the Met in New York, where she made her debut as Barbarina in Mozart's Le nozze di Figaro in a production directed by Jonathan Miller and conducted by the late and now disgraced James Levine. In the cast were Bryn Terfel, Renée Fleming and Cecilia Bartoli. The New York Times review mentioned her "excellent first impression" in the small role of Barbarina.
She is very grateful to the Met. "They took wise choices to conserve what it was that I had. I'm very fortunate in that sense." She was ridiculously fortunate, too, during the pandemic. She is married to Gus Christie, executive chairman of the Glyndebourne Festival, whose grandfather John built a private opera house on his estate near Lewes in Sussex in 1934. A singer with unfettered access to an opera house at a time when most of the arts world was shut down was in an enviable position, even if was just as an emotional support.
Her engagement with Francis Poulenc's 1958 one-act opera, La Voix Humaine, for soprano and orchestra and based on Jean Cocteau's 1930 monodrama, also began during lockdown. With just one role, Elle, it bypassed a lot of lockdown restrictions, and De Niese made a film of it on stage in Paris, with an orchestral track recorded under Antonio Pappano in London.
"It's a movie that happens to be sung with the score of La Voix Humaine," she says. "That was the thing I wanted to do, to make a movie whose soundtrack happens to be an entire one-act opera. Everybody had always told me that La Voix Humaine was a real Danni piece. I think people realise the kind of artist I am – in addition to the singing there's a very theatrical element to what I do. As a performer, I'm known for the acting qualities that I bring to my interpretation, as well."
La Voix Humaine, she says, "is a very, very theatrical piece. It's a one-woman show, about a woman's final phone call with her lover who has left her. There are really upsetting themes in it of suicide and depression." In spite of having made the film, which was broadcast by the BBC, her upcoming Dublin performance, in the first of two concerts with the NSO under Jaime Martín, will be her first live performance in front of an audience."
[ Claudia Boyle: 'The singing profession can be precarious, as the last few years have reminded us' ]
She took what she calls "a deep dive" into the work, even to the point of "writing the male part on the other end of the phone". It's a way to keep her fully in the moment. "When I do a performance, even if it's something I've done a million times, it's as if I've never actually done it before. That time that I'm doing it is the first time, that opening scene is the first time Figaro said that to Susanna, the first time she got this shock, or the first time she met Julius Caesar" – she's referring here to Cleopatra in Handel's Giulio Cesare.
"I really pride myself on being so in the moment that I'm ready to react to anything new, and I'm ready to be new, I'm ready to feel something differently on that day. Although I spend a lot of time thinking about and crafting a performance, I never print it in such a way that I could just do it with my eyes closed, and it's the same gesture, the same look or the same eyebrow and the same thing every day. It just never is, to me. That's not at all to me what performance is. I'm so glad about that. I would find performance so incredibly boring if you just did it the same way every day. In fact, if we had this conversation tomorrow, it wouldn't flow in the same way, even if you asked me the same questions and we talked about the same things."
Her feelings for Poulenc run very deep. "One of the things I love about him is this incredible dichotomy he has, in himself, and I feel that really shows in his music. The idea that he had this artistic influence of one parent, and the religious influence of another. I feel like it's a kind of yin/yang that exists in his sound, where you can listen to something like the Gloria, and you can hear both the spectrum of religion and the respect for that, and also the kind of eroticism of it.
"I find Poulenc sits on a knife-edge between being reverent and introspective, and also erotic. I guess erotic is a little bit of a strong word. Sensual would be a softer way of describing it. But there's something very rooted in the sensualism that he expresses. Like a lot of French music, it's implosive and never explosive, so even in the climaxes of La Voix Humaine, I'm aware that we're in a French style, and in can never just be like a Puccini declamation. I think that's why I love doing French music. I love finding these subtle arcs in the musical phrasing."
There's no reason why some of these cliches should follow opera — the fat lady sings, the Viking helmet, the cartoon impressions about it —  Danielle de Niese
There are, she says, "parts of Cocteau's play which are much more hysterical, and much more borderline extreme in personality of Elle. It's really interesting to me that Poulenc takes out some of those edges to the person, to the Elle that he wants to create. And I also found it kind of amazing to sleuth my way through the score and understand that Poulenc himself had a judgment, and thought about some of these responses, because he crafts her answers in a particular way that will tell you, Oh my goodness, this is what he thought the guy said … It's a lot more nuanced than: he's a jerk and she's suicidal."
Given her unusual position as a performer on the great stages of the world, and a member one of the most lauded families involved in opera festivals, what would she most like to change about the world of opera today. "I would wish," she says, "that some of these silly old cliches that still follow opera around in the mainstream would just be blasted away into smithereens."
[ Soprano Jennifer Davis: 'People see opera as very glamorous from the outside' ]
"There's no reason why some of these cliches should follow opera – the fat lady sings, the Viking helmet, the cartoon impressions about it." Nobody in the world of opera is perpetuating them any more, "so why are they still lurking in the background? Opera is so much more dynamic than that. Every single one of us who gets out in front of the public and promotes it does their bit to blast those cliches to smithereens."
Daniell de Niese sings Poulenc with the National Symphony Orchestra under Jaime Martín at the NCH on Friday, January 27th, and Ravel and Mozart on Friday, February 3rd. nch.ie