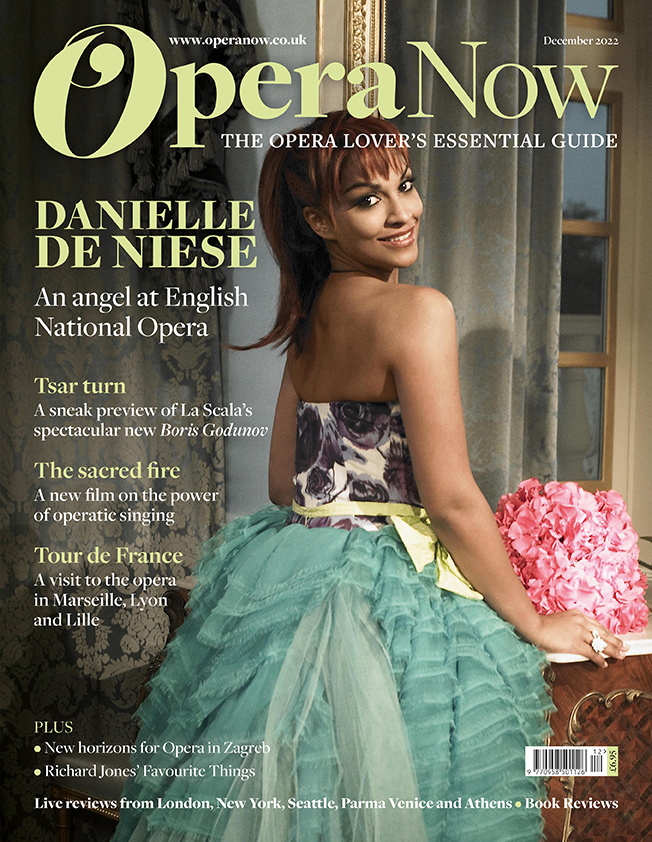 9:42, 17th November 2022 – John Barnett
Danielle de Niese is one of opera's most popular and dynamic artists, excelling in a wide range of genres from Baroque and Mozart to 20th-century masterpieces, contemporary work and musical theatre. In the December issue of Opera Now, she discusses her starring role in Jake Heggie's It's a Wonderful Life at English National Opera.
Plus, Kasper Holten introduces his new production of Boris Godunov which opens the new season of La Scala; a candid new film by Jan Schmidt-Garre explores the inner motivations of three sopranos at the top of their profession, as they reveal what compels them to perform and share their intimate experiences of a life devoted to their artistry as singers; an operatic odyssey through France takes in three of the country's leading opera houses in Marseille, Lyon and Lille; a new study throws the spotlight on legendary soprano Luisa Tetrazzini's beautiful, passionate singing, as preserved on record; composer Noah Max on bringing his new operatic adaptation of The Boy in the Striped Pyjamas to the stage; live reviews from London, New York, Seattle, Parma, Venice and Athens; new horizons for Opera in Zagreb; director Richard Jones; reviews of the latest CD, DVD and book releases; and our Worldwide Opera Guide to the best upcoming performances.
Subscribe to Opera Now and never miss an issue.