Britten Sinfonia showcases three new concertos at St Giles Cripplegate
After the disruption of the past few years, it was no doubt a sensible move to plan a cautious opera season. The novelties at the Royal Opera are spaced out to allow multiple performances of old favorites, not least a run of 17 performances of Puccini's La bohème.
There are three casts. The selling point of the first is Juan Diego Flórez, tenor nonpareil in fast-moving Rossini and Donizetti, who has slowly been feeling his way into heavier romantic repertoire. As Rodolfo, he is distinctly on the light side, but the tenderness in his first meeting with Mimi is captivating and the elegance of his singing compensates for lack of power elsewhere, though he was wise to make for the front of the stage whenever Puccini's orchestra is roused in earnest.
He is paired with the Mimi of Ailyn Pérez, not as sweet or fragile as some, but singing with a fullness of tone and care for the small notes that make each phrase generously expressive. Together, she and Flórez manage to find a middle ground, where they sound decently well matched vocally (and what a joy to hear both soar so effortlessly up to the moonlit close of the love duet).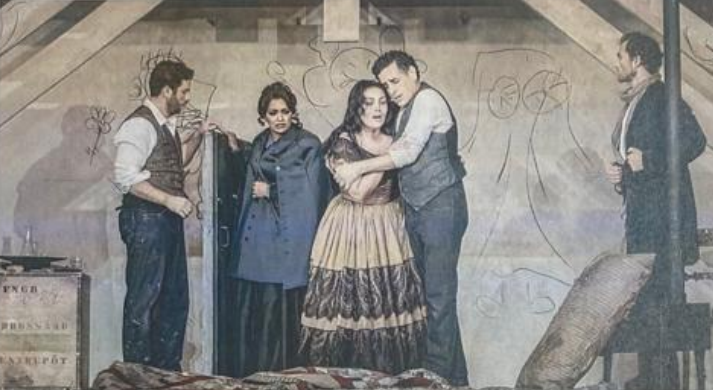 There is a welcome first appearance at the Royal Opera by Andrey Zhilikhovsky, who makes a strongly sung Marcello. Ross Ramgobin is an energetic Schaunard and promising bass Michael Mofidian sings Colline's short aria bidding farewell to his winter coat with a simple dignity. All are upstaged, though, by the magnetism of Danielle de Niese's Musetta, when she attracts the attention of all with her comic bravura at Café Momus.
Danielle de Niese's Musetta outshone all around her © Marc Brenner
Aside from the Parisian dazzle of that scene, Richard Jones's production from 2017 is serviceable but rather cold at heart. He is keen to remind us this is nothing but a contrived piece of theatre by, for example, keeping the young Bohemians busy with slick, choreographed routines. In those scenes, conductor Kevin John Edusei delivers sparkle at fleet speeds and a light touch that are further plus points for this revival.