October 15, 2022 by Adrian York
A Starry Bohème at the Garden Brings on the Passion
We are having a La Bohème moment with the revival of Jonathan Miller's Brassaï influenced production at the ENO, Floris Visser's darker take for Glyndebourne now on tour and this glorious third revival of Richard Jones' 2017 production at Covent Garden. With themes that still resonate of urban deprivation, gender, toxic male jealousy and female empowerment as well as some of the best tunes in the operatic repertoire, it's no wonder that La Bohème is still filling opera houses globally.
With our relentless hounding of pop culture icons such as Princess Diana and Amy Winehouse, we are a culture just as obsessed with the 'femme fragile' as the late 19th-century audience for whom the consumptive female heroines of Giuseppe Verdi's La Traviata and then Giacomo Puccini's La Bohème provided an irresistible draw. The story of Puccini's four-act opera, libretto by Giuseppe Giacosa and Luigi Illica with a story taken from Henri Murger's novel Scenes de la Vie de Bohème, revolves around two couples; the poet Rodolfo, played by Peruvian tenor Juan Diego Flórez, falls in love with Ailyn Pérez's sickly seamstress Mimi. Their relationship runs in parallel to the second pairing, artist Marcello and courtesan Musetta, with Andrey Zhilikhovsky and Australian soprano Danielle de Niese in the roles. Juan Diego Flórez is one of the leading tenors of our time. His voice is stunningly light and flexible, showing a hint of the bel canto style, with his terrific tonal control effortlessly shifting from brighter to darker timbres. Flórez has the good looks and a romantic persona to fully inhabit the role of Rodolfo and he navigates the blazing passion of the ravishing love duet "O soave fanciulla' as well as the more tender moments of 'Che gelida manina' which brought the house down with brilliance and style.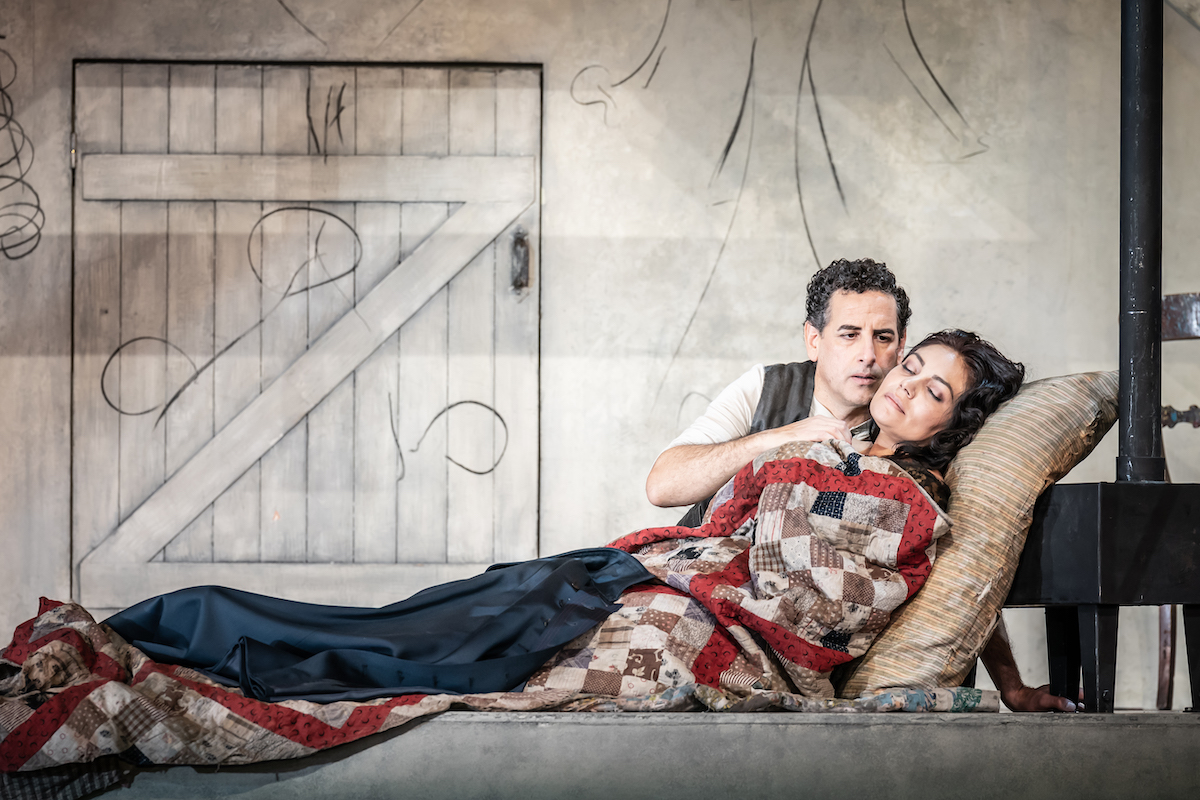 American soprano Ailyn Pérez's Mimi is well-matched to Flórez's Rodolfo. She brings an inner stillness to the part and the darker almost husky hues of her voice added depth and spirituality to her characterisation of a part that can tip over into the mawkish but never did. The rendition of her introductory aria 'Si, Mi chiamano Mimi' was effortlessly sublime and well-characterised giving us a sense of her backstory.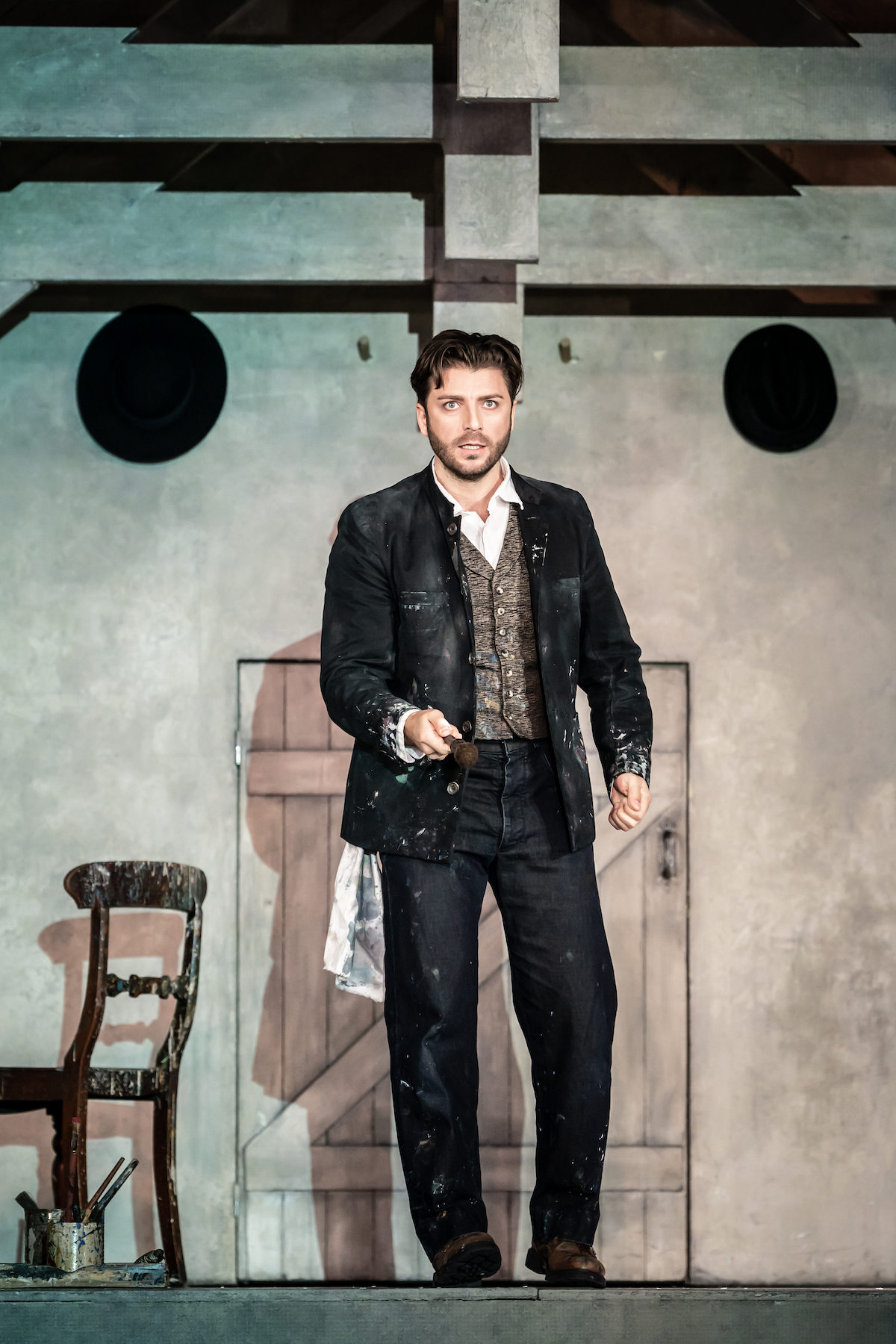 Moldovan baritone Andrey Zhilikhovsky, making his Covent Garden debut as Marcello, brings powerful masculinity to the part with his muscular vocal sound sometimes dominating the other male singers. La Bohème is as much about the fragility of the male ego as it is anything else and Zhilikhovsky turns on a sixpence from being a wise paternalistic figure giving sage advice to Mimi, to a jealousy-riven madman.
But who wouldn't be driven mad by diva Danielle de Niese, resplendent in a stunning scarlet frock? She plays Musetta as more of a coquette than the more comedic Aida Garifullina whom I saw previously in this production. Marcello and Musetta's duet 'Quando m'en vo', one of the real showstoppers of the opera, had emotional authenticity and wonderful singing and again got a deserved ovation from the crowd.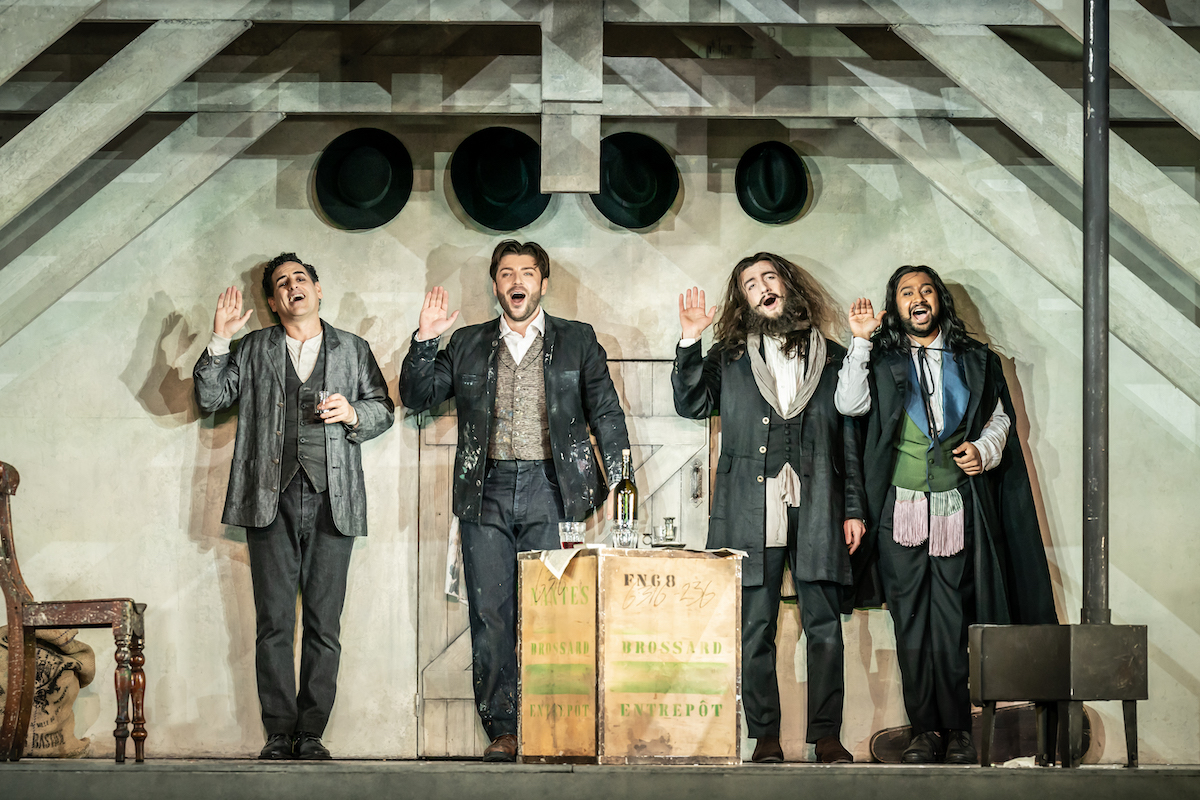 Rodolfo and Marcello, poet and artist, are part of a quartet of friends with Ross Ramgobin as the musician Schaunard and Michael Mofidian as the philosopher Colline making up the foursome. They are all on their uppers, having to burn Rodolfo's latest writings to stay warm. As Schaunard, whose most recent gig is playing his fiddle to an Englishman's dying parrot, British baritone Ross Ramgobin is light on his feet with a sweet-toned voice but seemed underpowered compared to the others. Scottish bass-baritone Michael Mofidian's Colline brought a stoic tenderness to 'Vecchia zimarra, senti' in which he bids farewell to his old coat that has served him well before it is sold to fund help for the ailing Mimi. There is a sense of genuine comradeship between the men in this production as they support each other in their narcissistic idealism, sharing their food and resources whilst they also scrawl childish pictures of naked women across their apartment walls in a display of emotional immaturity. The women's challenges are more real and pressing; Musetta is economically reliant on her lovers and whilst Mimi has a trade, her illness creates a wedge between her and Rodolfo who feels he doesn't have the means to support her.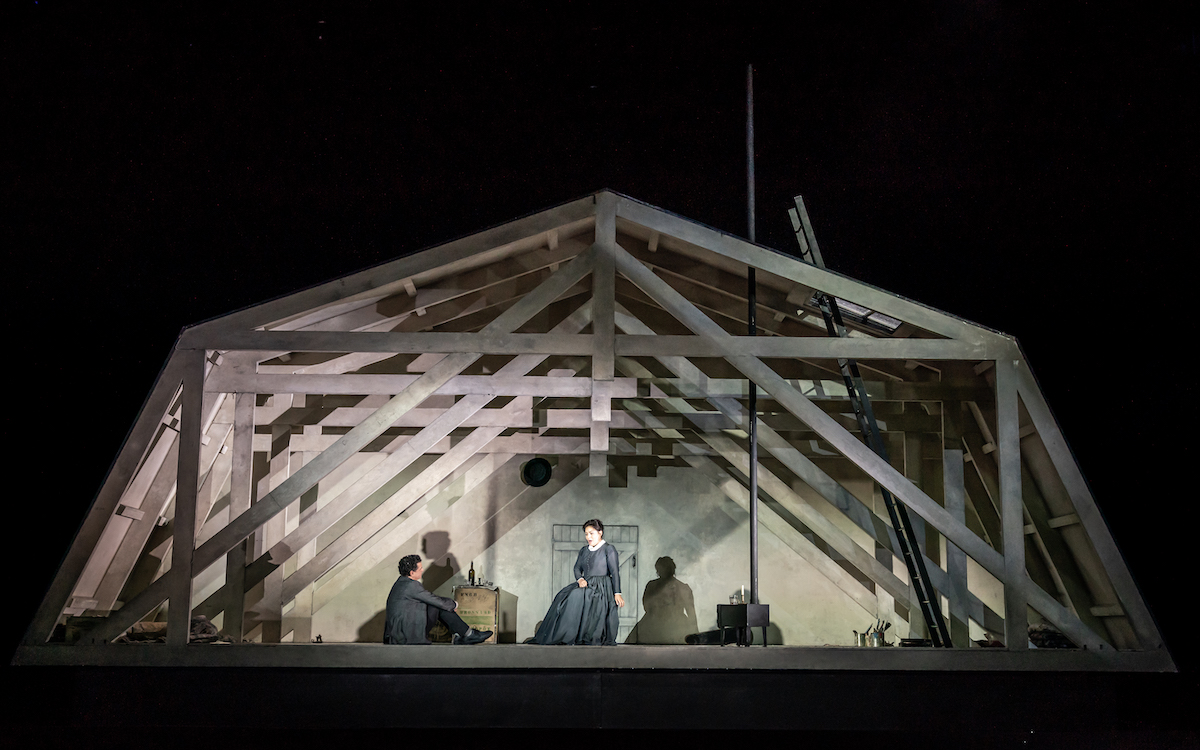 There has been some debate about Jones' production with some critics carping about designer Stewart Laing's set for the opening scene –a Parisian garret inhabited by the four young 'bohemian' artists. They are set on avoiding paying their back rent to their landlord Benoit, touchingly played by Jeremy White, by getting him drunk. With its exposed wooden beams and cramped conditions, it tells us enough about the life they lead without having to be a literal representation and acts as an effective frame for the nascent stirrings of the new realism, or 'verismo' in Italian opera, that Puccini is flirting with in La Bohème just as Chekhov had done in theatre a couple of decades before.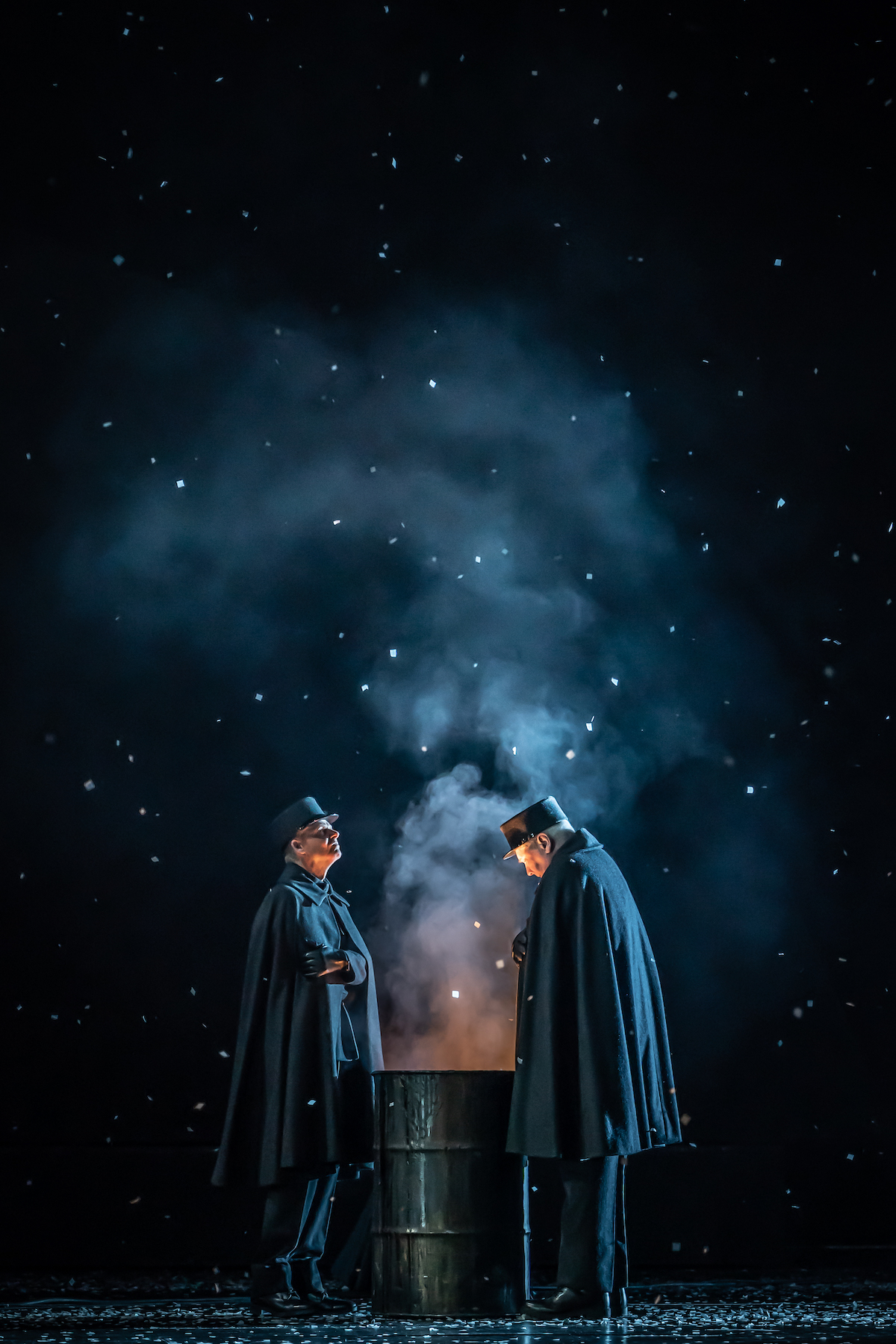 In the transition to the second act, the magical elements of this production start to emerge. A glistening snowfall is followed by the appearance of frames containing delightful bustling evocations of Parisian shopping arcades in the Latin quarter which then transform into the chic Café Momus where a tipsy Musetta, with her leg up on the table, her hair loosened and her knickers off, sets about seducing a non-too-resistant Marcello. However, there is a clunkiness about some of the set changes with stagehands appearing on stage shoving the sets around in the sometimes overlong gaps between the acts. This takes us out of the drama and should be better managed.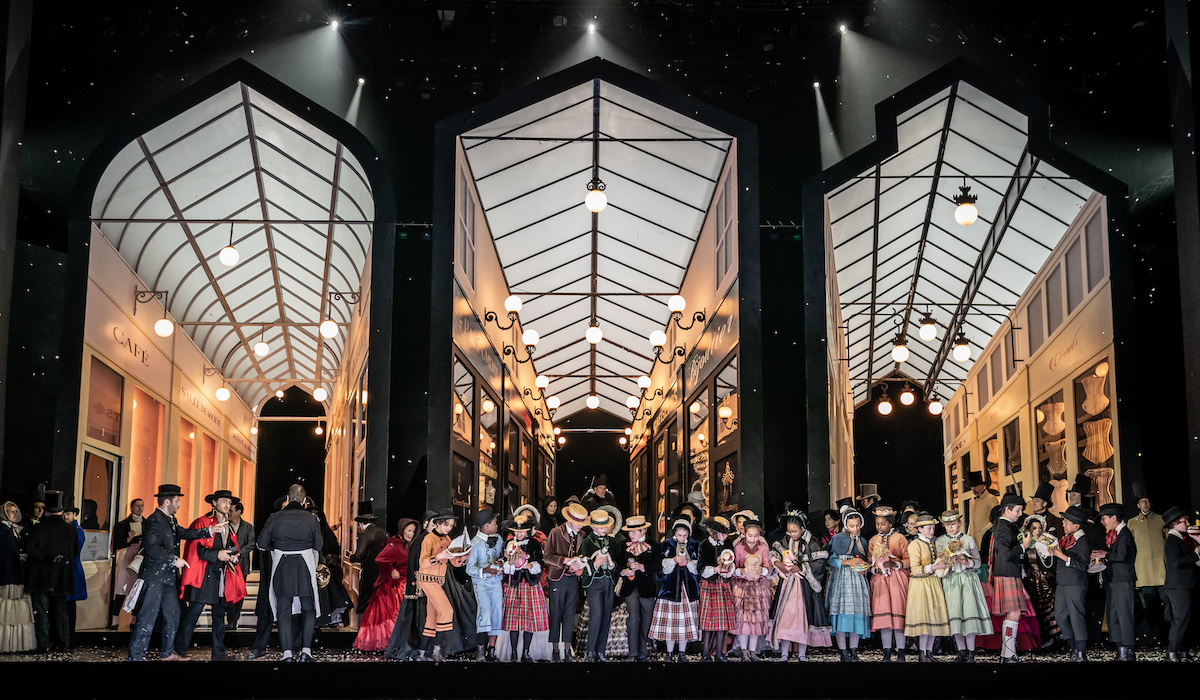 Conductor Kevin John Edusei started off at a brisk pace and focussed more on keeping up the dramatic pace rather than milking the emotion. Sometimes the strings, providing a gorgeous lush backdrop to the drama, overwhelmed the singing. The orchestra was matched by the power and precision of the Royal Opera Chorus adding a hefty vocal punch to the wonderfully staged crowd scenes and special mention must again go to the well-drilled children of the Cardinal Vaughan and The Grey Coat Hospital schools who added a youthful vigour and charm to the proceedings.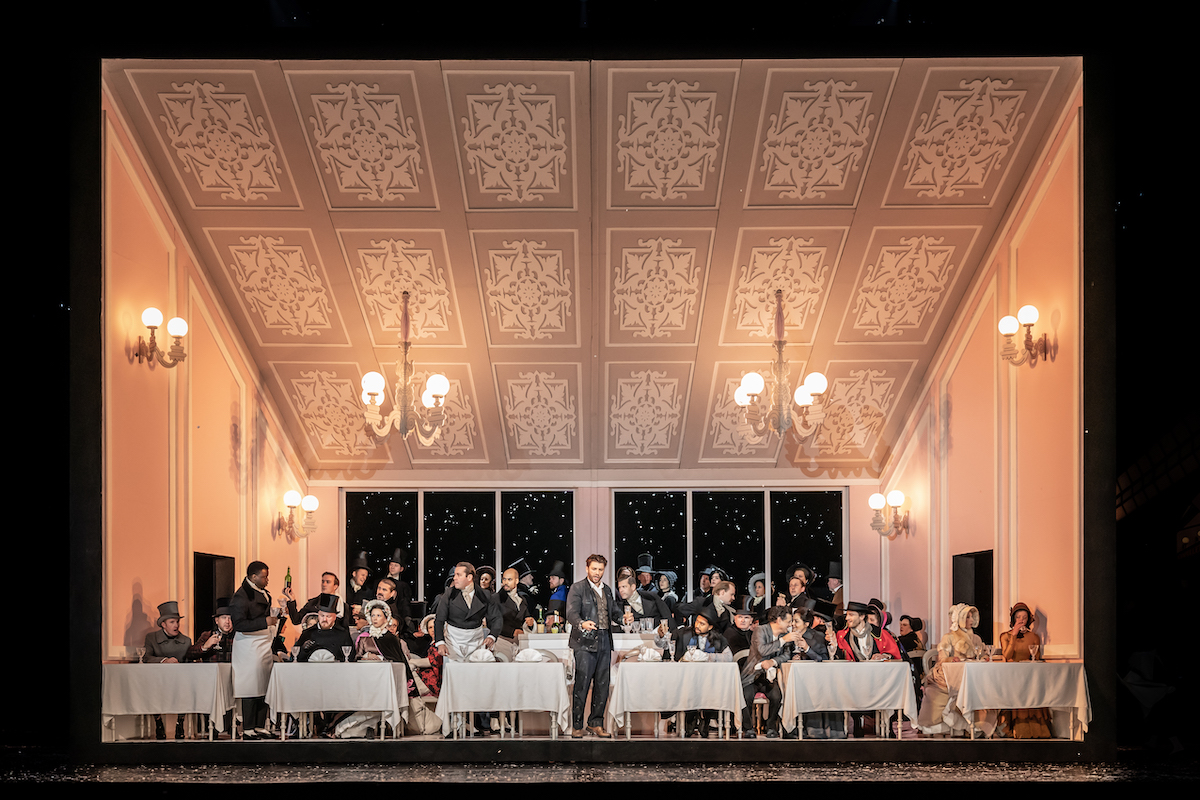 This is a terrific La Bohème, just as suitable for the opera novice and younger audiences as for the more traditional ROH audience and with tickets from £17 upwards it is accessible to all.All photos by Marc Brenner
La Bohème
14 October–17 November 2022
Royal Opera House
Bow Street
London
WC2E 9DD
Filed Under: Events, Opera