SEEN AND HEARD INTERNATIONAL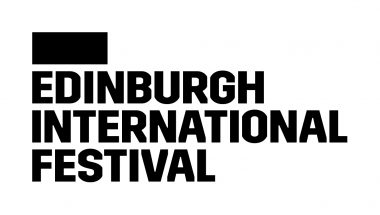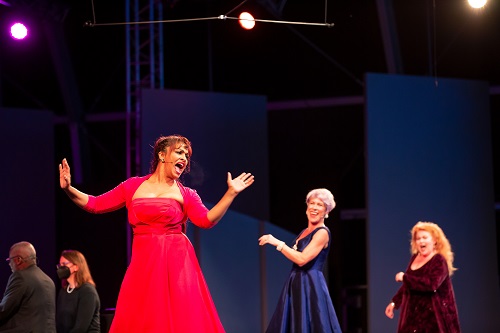 Rodgers and Hammerstein's indestructible songbook delights Edinburgh
United Kingdom

Edinburgh International Festival [3] – Rodgers and Hammerstein, A Grand Night for Singing: Soloists, Edinburgh Festival Ensemble, Wayne Marshall (music director), Kim Creswell (staging). Edinburgh Academy Junior School, 10.8.2021. (SRT)
Danielle de Niese – Lynne
Kim Criswell – Victoria
Anna-Jane Casey – Alyson
Damian Humbley – Jason
Richard Morrison – Martin
My knowledge of Broadway shows isn't extensive enough to say this definitely, but I would not be at all surprised if A Grand Night for Singing wasn't the first ever duke box musical, predating Mamma Mia and Bohemian Rhapsody by about a decade.
It was put together by Walter Bobbie in 1993. Bobbie came up with the whizz idea that compiling a revue from a range of songs by Rodgers and Hammerstein would make a good show on its own and, indeed, it gained Tony nominations for the following year. It's a fairly good fit for 2021's slimmed-down EIF, too: it doesn't really have a plot, so it doesn't need sets or costumes and can be done with a small cast of five singers and only seven instrumentalists. Perfect for a pandemic presentation, you might think.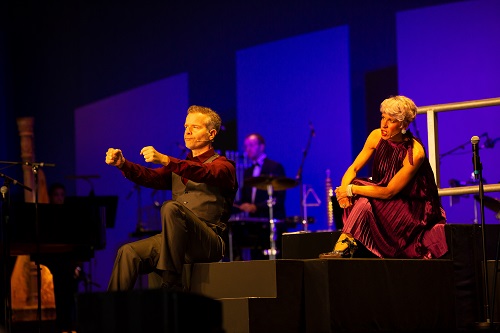 Well, sort of. What Bobbie has done is raid the Rodgers and Hammerstein catalogue for songs about love and put them together into a shape that kind-of makes sense, but might just as easily have been done in the opposite order and it wouldn't make much of a difference. To say that it's dramatically shonky would be a massive understatement, and the necklace of songs Bobbie strung together have no coherence whatever. Beginning with la-la-la-ing to the Carousel waltz is only the first of many questionable decisions. Furthermore, without a plot to compel it along, it feels much too long, and I would happily have lost a couple of songs from each act.
And yet, completely in spite of myself, I could not stop myself grinning along to the vast majority of the show. My head was telling me that it was a desperate ragbag of scraps, but my heart swelled when I heard so much of that music, however disjointed it was, and I would be lying if I said the frequent tears in my eyes were down to the biting effects of the Edinburgh wind.
The simple reason for its success is the utterly indestructible nature of Rodgers and Hammerstein's songbook. It is so full of treasures that you would have to be a snob of the highest order to turn your nose up at it. Yes, Bobbie repurposed a lot of the songs to no particular end, but it was so wonderful to be reminded of hits from shows like Oklahoma!, South Pacific and Carousel. It was, if anything, even better to have the lid lifted on R&H shows I had never encountered like Cinderella, State Fair and Flower Drum Song, suggesting that, while there may be a reason these shows have not become hits, they still clearly have jewels in them that deserved to be mined.
I was also willing to forgive the cast any indulgences or OTT Broadway-isms that I would otherwise find pretty wearing. Kim Criswell may be a Broadway legend but she was, if anything, the least effective of the ladies, for all her skill in devising the staging. Far more compelling was Anna-Jane Casey, who oozed star power and charisma in each of her numbers. Danielle de Niese, whose meat-and-potatoes is a long way from this sort of repertoire, threw herself into the music with gay abandon. Her singing of 'Something wonderful' from The King and I was the highlight of the evening. Baritone Richard Morrison sang effectively, but Damian Humbley had true leading-man quality. The whole thing was held together seamlessly by pianist and musical director Wayne Marshall, who believes in this music completely and whose band proved convincing advocates for it.
So, yes: it is too long and it's dramatically all over the place, but play me those songs in performances of this conviction, and I will melt into my seat. If you feel the same way then you know you will need to catch this.
Simon Thompson
On until Friday 13th August. The 2021 Edinburgh International Festival takes place until Sunday 29th August in venues across the city. For full details click here.