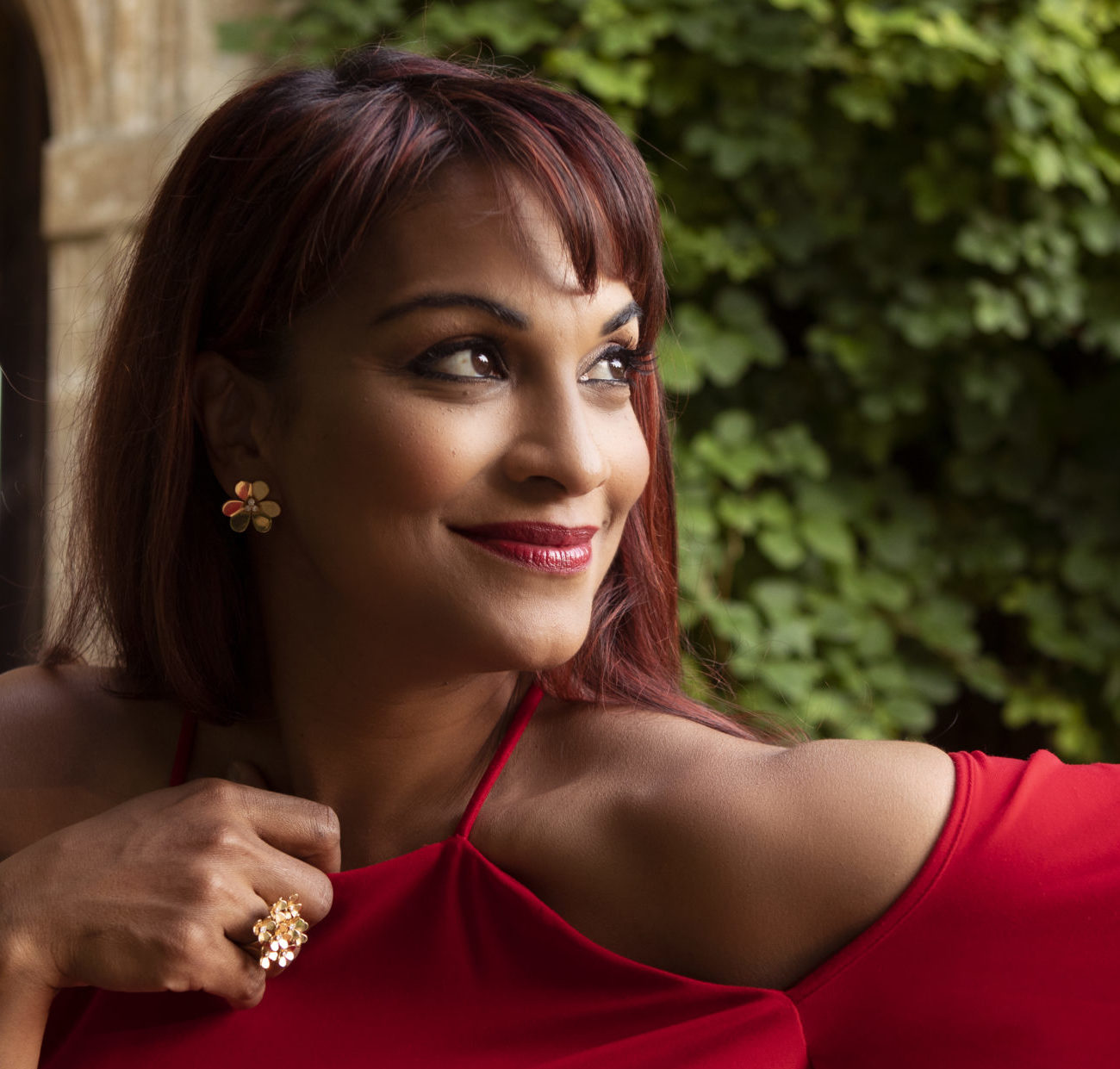 NOV. 10, 2020
By Chris Ruel
(Credit: Frances Marshall)
"At Home With… " is a brand new series collaboration between OperaWire and photographer Frances Marshall of Marshall Light Studio, combining original photography with insightful interviews. In this first edition, OperaWire spoke with singer, recording artist, television host, and ambassador of the arts, Danielle de Niese.
De Niese lives in the main house at Glyndebourne—home of the annual three-month summer festival—with her husband, Gus Christie, the inheritor of the estate and the Executive Chairman of Glyndebourne Productions Ltd. She was named one of the "coolest sopranos" by The New York Times and is an extraordinarily well-rounded and prolific artist with five solo albums and an additional 14 on which she appears. That doesn't include the 12 DVDs De Niese is also featured on.
When not on stage or in the studio, De Niese presents series on BBC channels and works with charities such as the Prince of Wales' Children & the Arts—for which she is an ambassador.
At the time of this writing, De Niese is expecting her second child as the U.K. enters its second national lockdown. With the opera industry grinding to a halt, many singers have struggled to maintain routines, but when you live at Glyndebourne, there's never a shortage of things to keep De Niese busy, though the pandemic has caused her to slow down—a little.
In her interview with OperaWire, she spoke of how the pandemic has enabled her to enjoy the simple things that come along with living at Glyndebourne. Something as commonplace as sitting on a bench and enjoying the view, or having a picnic on the grounds, help her unwind during this extraordinary period in history while still pursuing her goals and passions.
And though the Festival was canceled this summer, Glyndebourne got creative and brought live music to the grounds in a modified form that adhered to government guidelines. In this interview, De Niese speaks about living and working at Glyndebourne—the stunning place she calls home—in the time of COVID.
OperaWire: Like so many events that have become seared in our collective and personal memories, what's your COVID-19 story? Where were you and what were you working on when things nosedived in Europe and the U.K.?
Danielle de Niese: I was in Los Angeles, doing the world premiere of Matt Aucoin's "Eurydice." Everything's going hunky-dory, but I thought, "Let me get some masks." At that point, even my family was like, "Isn't this a bit much?" When I flew back to England at the end of February, it was really getting bad.
In early March, we embarked on the beginning of the BBC Two series in Germany, and it was a very odd situation because nobody wanted to be the person responsible for canceling the trip out of fear of COVID. So, everyone went, "Look, I'm game. If your game, let's do it, let's be safe, let's be conservative."
I remember sitting down in a nice Italian restaurant with my crew and cast, and our production manager came in and announced: "I've got some news, the borders are going to close in three hours. So, we have to eat and go." Two hours later, we were on a plane heading back to the U.K. It was kind of intense, actually. There was that feeling that we are going into the eye of the storm. I think a week passed and then we were in lockdown from March 23.
OW: We're now eight months into the pandemic, you have a baby on the way, and a little time to slow down somewhat. Are there things you've learned about yourself?
DDN: We're in this like angelic paradise here. And it was one of those few times in life where we could just sit on a bench in the garden; I could just sit there—I mean, I could actually use a bench for what it's for and not be thinking, "Oh, that bench has been moved. We'll move it, but I've got to run." That was an unusual luxury of lockdown.
And of course, spending time with the family was a huge bonus. I love to work and I love to not work and be a family. Once you become a mom, that's an additional thing that you manage and balance. I've become faster when I need to be fast so I can be slow and smell the roses when I want to.
OW: Speaking of flowers, you live at Glyndebourne. How did that happen?
DDN: My husband, Gus Christie, whose grandparents were John Christie and Audrey Mildmay, inherited the estate. The inheritor lives in the main house, and so, here we are. The theater is a 10-second walk from where I'm sitting now.
In taking Gus on, I took Glyndebourne on. It's part and parcel of being with him in the same way that him being with me is to live with an opera singer. There's no way that he could ever have said, "Could you just be Mrs. Christie at Glyndebourne and not travel around the world?" just as I couldn't say, "But, yeah, could we not live here?"
So, that's the balance between the two of us. There's a great amount of mutual respect, understanding, and support that we can give each other because we function in the same field.
OW: Unfortunately, COVID put the brakes on this year's festival. How did that impact you?
DDN: It was pretty depressing. I remember I was with Gus and we were saying, "This would have been the opening of the festival." It's utterly sad, actually. It's really, really, really, really sad. But there's other stuff going on that's more serious than not doing "Dialogue of the Carmelites" at Glyndebourne on the opening night of our choice. It is about getting that perspective.
I've done so much charity work with trips to really bad places where terrible things happen that I can check myself and gain perspective. As sad as it was to cancel, it's not the worst that could happen. We're not being asked to go underground into a bomb shelter without daylight for eight months, we're being asked to stay home.

OW: Glyndebourne showcased some live music even though the Festival itself was canceled. How did that come together?
DDN: We have this huge garden out there. So everyone's saying, "Let's think. Let's not just go with the safest and easiest thing to do by just canceling and waiting, let's push the boat out a bit and see if there isn't some way we can safely provide a live performance for people." And of course, that takes more effort, that's the thing.
You've got to get a lot of people together and bat around 1,000 ideas and make 2,500 contingency plans that end up going by the wayside because some new requirement comes in and it's like, "Okay. Let's scrap those 17 meetings we had last week and have 17 more to figure out how now it's going to work." It was pretty intense, but Glyndebourne would not give up and they figured out a way.
We did this amazing opera in the garden called "In the Market for Love" ("In the Market for Love" is a new translation of Offenbach's "Mesdames de la Halle," by Stephen Plaice) and it's an unknown jewel of a piece—a great ensemble piece—and it was a wild success.
It was very difficult to put together socially distanced rehearsals. We're each given our corner to sit in. We were only allowed to sit in our chair; we had to manage our own costumes and use our own hanger—the one hanger assigned to us. We could share nothing and had to maintain social distance at all times.
There was a taped, triangular thing called a tessellator that marked out three meters' distance at any point on the stage. So, you stage things with people moving between these different squares and triangles. The guidelines were things like one meter if you're passing, two meters if you're talking, three meters if you're singing. It's complicated but totally doable, and it tells you volumes about the spirit of performers.
OW: You mentioned earlier that you were at work on a new BBC Two series when you had to leave Germany because of COVID. Tell me about the project.
DDN: It's a traveling music history series not unlike "Parts Unknown with Anthony Bourdain." I like that show because you learn a lot about culture through food. This is going to be a somewhat similar template, with viewers learning about the history of a country through the history of its music.
We're doing France, Italy, and Germany and it's myself and Gareth Malone, a wonderful choral conductor who's very well known here in the UK. Part of the series will be him and me showing each other things one of us has experienced, but the other hasn't. The interesting thing about being a presenter is that I'm also a practitioner. I can go in, get my hands dirty, and really experience or try something out.
One thing I did before this series was a film for the BBC called "Unsung Heroines" which chronicles five forgotten female composers. The new series is going to have a broader scope and a little less focus than "Unsung Heroines" because we're covering a lot more ground. It's also for a much bigger audience—about eight to ten million—on BBC Two.
OW: Because of the pandemic, there are more opportunities for people to experience opera through streaming and other innovations. Do you see a space for audience building and education?
DDN: Absolutely—especially because a lot of the streaming started out being free. As much as I love live performance, I think filmed performance is just as important because it's nice to bring the lens in a little closer.
In all the years of my life, I've done education work. It's an important thing for me to give something back to people—passing back what I received. I really love to connect with children and then follow through with them a couple of years later. I invited some kids from Birmingham who I'd met two years before down to see me do a double bill at Glyndebourne, and it was great to catch up with them. I came up with the idea to bring the parents as well because, sometimes, when you do education things, the kids think it's cool, they think you're cool, and they might go home and say, "Mom, guess what, I saw! I saw this opera singer and, actually, it was pretty cool." But if the parent has had no exposure to it, they may inadvertently not rate something because they haven't had it themselves.
It's very important to me to continue all of that and bring together these different strands to reach a wider audience that can hopefully be open-minded.
OW: With people at home—under lockdown once again in the UK and elsewhere—which of your recordings would you recommend people give a listen to? Personally, I like "Handel Arias."
DDN: "Handel Arias," for sure, and "Beauty of the Baroque." Baroque music is close to pop music; newbies love the form because it's hit after hit and memorable hook after memorable hook. I'm very proud of the "Cendrillon" that's just been released, which was a big labor of love because it was a bit of a different kind of love awakening production by Fiona Shaw. My London Symphony Orchestra debut was with Sir Simon Rattle in Bernstein's "Wonderful Town." That's a recording I would love people to hear because that's just so different, wonderfully light, and so charming.
OW: What's your advice for younger singers as they survey the industry's landscape in the time of COVID?
DDN: If you can manage to hang on, then hang on for dear life because we need the next generation. If you can bear it, keep holding on to the side of the ship because this will settle at some point, but it's anyone's guess how and when that happens. And it might equalize things in a way that could be really good for young singers.
I hope that government assistance will help keep people afloat because it's one thing to think about, "How am I going to pay for my $200 voice lesson?" but it's another thing to think, "How am I going to eat?" And a lot of young singers are going to be thinking about that, not the voice lesson, yet.
When there's a will, there's a way and, hopefully, at the end of the pandemic, we'll tell the tale of how we came out of this crazy time.
Writer Christopher Ruel started with OperaWire in 2018 and has profiled artists such as Kathryn Lewek, Erin Morley, Stephen Costello, Christine Goerke, Susan Graham, and Zachary James. His work also includes stage reviews. He is the co-founder and Creative Director of Bel Canto Productions, an organization that brings together the beauty of opera with the culinary arts.