· by Fred Plotkin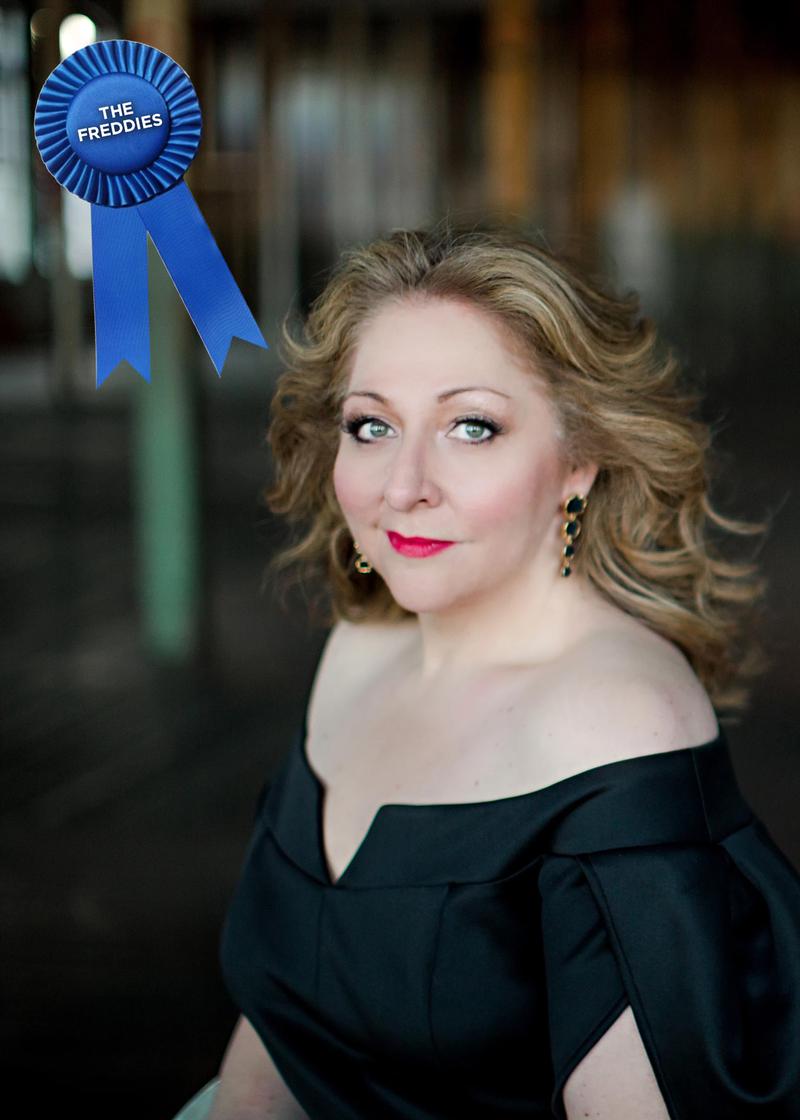 As 2019 comes to a close, it is time for the seventh annual Excellence in Opera Awards, also known as the Freddies. I have seen and heard a lot of excellent performances and, though the art form always faces challenges, I am sanguine about its future — especially if audience members support it by attending live performances and are open to experimentation.
This year I attended 80 opera performances given by 24 different companies, ranging from the Met, La Scala, Covent Garden, and the Vienna State Opera, as well as festivals in Parma and Verbier, to regional American companies including Dallas, Philadelphia, and Washington, to small houses in Italy and adventurous, experimental companies in New York where the wealth of talent far exceeds the size of their budgets. Symphony orchestras often present opera in concert, and two of the best were at the New York Philharmonic.
As you would expect, I heard a lot of opera at the Met, much of it excellent. A positive trend there I want to mention is that the quality of revivals has improved notably in terms of production and stage direction, and many of these revivals have had excellent casts. An opera company cannot live on new productions alone, so this is a gratifying development.
As readers recall from the Excellence in Opera Awards bestowed in 2013, 2014, 2015, 2016, 2017, and 2018, these honors only go to artists and productions I actually heard. Therefore, if you saw something marvelous that I did not, I did not exclude your favorite because of merit, but simply because I did not have the pleasure to attend it. In the comments section of this article, feel free to describe the most memorable achievements in opera in 2019 that you experienced.
Here are the recipients of the 2019 Freddie Awards for Excellence in Opera:
Sustained Excellence in Performance, Female: Soprano CHRISTINE GOERKE goes from strength to strength. Her Brünnhilde in Die Walküre, Siegfried, and Götterdämmerung in the Met Ring Cycle was thrillingly sung, incisively acted, and filled with heart and soul. She is one of the best listeners among singers, which brings her a degree of musical and dramatic engagement that other performers should study and emulate. She was an excellent Turandot at the Met in October and, in November, gave a tantalizing hint of what her Isolde will be when she sang the second act of Tristan und Isolde with experienced colleagues and the National Symphony Orchestra under the baton of Gianandrea Noseda. Goerke is one of the most beloved singers among her peers because she pursues her career with honesty, humor, hard work, and a ready willingness to support her colleagues.
Sustained Excellence in Performance, Male: It is fair to say that tenor MATTHEW POLENZANI can now be considered a veteran artist. Unlike many, he gets better all the time. This year he sang six roles at the Met. He was a superb Tito (La Clemenza di Tito), Vaudémont (Iolanta), Duke of Mantua (Rigoletto), Macduff (Macbeth), Rodolfo (La Bohème), and Italian tenor (Der Rosenkavalier), and gave an outstanding recital at Zankel Hall.
Individual Performance, Female: DANIELLE DeNIESE as Cleopatra in Giulio Cesare at Teatro alla Scala. The Milan temple of opera had announced, with great fanfare, that it would present Handel's Giulio Cesare in a new Robert Carsen production with Cecilia Bartoli as Cleopatra. Tickets to the entire run sold out in a day and then, alarmingly, Bartoli withdrew from the production. DeNiese, who had sung Cleopatra to great acclaim at Glyndebourne and the Met, was brought in to make her La Scala debut. Her singing, acting, dancing, and ability to fulfill the many demands of Carsen's fascinating production made for a huge personal triumph.
Honorable Mention: Angel Blue (Bess, Porgy and Bess, Met); Lise Davidsen (Lisa, Queen of Spades, Met); Joyce DiDonato (Sesto, La Clemenza di Tito, Met); Amanda Forsythe (title role, Semele, OperaPhiladelphia); Alisa Jordheim (Ninetta, La Gazza Ladra, Teatro Nuovo); Elizabeth Llewellyn (Bess, Porgy and Bess, Met); Ailyn Pérez (Mimì, La Bohème, Met); Anita Rachvelishvili (Dalila, Samson et Dalila, Met); Nina Stemme (Judith, Bluebeard's Castle, New York Philharmonic); Pretty Yende (Marie, La Fille du Régiment, Met).
Individual Performance, Male: STEFAN VINKE in the title role in Siegfried, and ANDREAS SCHAGER as Siegfried in Götterdämmerung at the Met. It is hard enough to find one tenor to perform the punishing role of Siegfried, but the Met found two for its Ring Cycle! Both made sensational debuts, singing with unflagging energy and focus and acting with great nuance and attention to detail.
Honorable Mention: Piotr Beczala (Cavaradossi, Tosca, Vienna State Opera); Javier Camarena (Tonio, La Fille du Régiment, Met); Anthony Roth Costanzo (title role in Akhnaten, Met); Jacques Imbrailo (title role in Billy Budd, Royal Opera House); Jonas Kaufmann (Alvaro, La Forza del Destino, Royal Opera House); Johannes Martin Kränzle (Bluebeard, Bluebeard's Castle, New York Philharmonic); Tomasz Konieczny (Alberich, Ring Cycle, Met); Gregory Kunde (Radames, Aïda, Vienna State Opera); Bejun Mehta (title role in Giulio Cesare, Teatro alla Scala); Leo Nucci (title role in Rigoletto, Teatro alla Scala); Matthew Polenzani (Tito in La Clemenza di Tito, Met); Toby Spence (Captain Vere, Billy Budd, Royal Opera House).
Best Cast in a Bad Production: The sensational cast the Met assembled for its Ring Cycle in spring 2019. My problem with the so-called Machine is not that it makes creaky sounds — a lot of scenery is noisy — but that it is a large encumbrance that occupies so much visual and psychic space for too long and does not earn its keep dramatically. It moves occasionally and is used for often excellent projections that could have been done on a lighter, less costly material. Its biggest flaw, though, is that it leaves so little space for scenic action. Performers stand under this hulk and often are knee deep in a crevice, forced to move laterally in a cramped space. The Machine does have the effect of creating a sound wall that projects voices out into the auditorium, so the singers sounded great, but would have anyway. And what an extraordinary group of singers the Met gathered — the best overall Ring cast I have heard in more than a decade. Among them were Jamie Barton (Fricka), Karen Cargill (Erda), Christine Goerke (Brünnhilde), Tomasz Konieczny (Alberich), Eric Owens (Hagen), Andreas Schager (Siegfried), Gerhard Siegel (Mime), Stuart Skelton (Siegmund), Stefan Vinke (Siegfried), Michael Volle (Wotan / Wanderer), Eva-Maria Westbroek (Sieglinde), and wonderful Rhinemaidens, gods and giants in Valhalla, Valkyries and Norns, all conducted by Philippe Jordan.
Star-Making Performance, Female: HOLLY FLACK sang the title role of Meyerbeer's Dinorah at Amore Opera with astonishing fluidity and confidence. This work is seldom performed, in part because you must find the rare singer who can surmount the challenges of Dinorah's music. Flack sang it as if it was her birthright.
Star-Making Performance, Male: Baritone JARRETT OTT made a powerful impression as the title character in David Lang's Prisoner of the State at the New York Philharmonic. The opera draws inspiration from Beethoven's Fidelio, though it is shorter and goes straight to the heart of the story of the courage of a woman who liberates her political prisoner husband. In Fidelio, the character (Florestan) is a tenor; here it is a baritone, and Ott's performance was powerful and soulful all at once.
Prick Up Your Ears: Sometimes a singer in a large or small role makes you pay attention in new and gratifying ways.
LISA CHAVEZ as Maggie in Stonewall at New York City Opera was a standout in the excellent cast of this important new opera. She is the first character we meet, and becomes the heart and soul of the story about the 1969 uprising that led to the movement for equal rights for LGBTQ people. Her mezzo voice suited Iain Bell's music (and vice versa) perfectly, and she sang with genuine ardor and sense of theater.
ELISABETH HARRIS, mezzo from New Zealand, sang Orlofsky in Die Fledermaus, presented by the Martina Arroyo Foundation as part of its essential Prelude to Performance initiative. Her voice had tonal quality that brought to mind that of the great Tatiana Troyanos, which is a gift. Her singing and acting of the bored prince was always engaging and charismatic, no small achievement in what is an unexpectedly tricky role.
SOLOMAN HOWARD as Cadmus and Somnus in the English Concert's presentation of Handel's Semele at Carnegie Hall in April. I have only seen Howard under heavy makeup as the King in Aïda and one of the giants in Das Rheingold. In his tuxedo, he turned out to be a charismatic performer who uses his beautiful voice in expressive ways, and could register comic and dramatic moments with utmost naturalness.
VERONICA MARINI (Amina) and RUZIL GATIN (Elvino) in Bellini's La Sonnambula at Teatro Sociale di Como are both young artists who won the Aslico competition, which has identified important talent since 1949. They sang passionately, handled bel canto challenges well, and showed genuine chemistry.
ALINA TAMBORINI's beautifully produced soprano voice was perfect for the role of Isoletta in Teatro Nuovo's semi-staged concert performance of Bellini's La Straniera. I would like to hear her again in larger roles.
Sustained Excellence in Conducting: MARCO ARMILIATO for Aïda and Tosca at the Vienna State Opera; Macbeth, La Bohème, and Turandot at the Met. Sometimes an artist is so consistently good and reliable that his talents are taken for granted. Armiliato always delivers superb performances that are fresh and alive, yet anchored in tradition. This year I saw him conduct casts with debuts and last-minute substitutions, yet he always provided sensitive leadership that showed each singer at his or her best, while also using his orchestral forces to tell the stories of the operas in question. Armiliato is way overdue for being entrusted with a new production at the Met that he can shape from its beginnings, rather than being asked to do a run of performances of a familiar work being revived.
Individual Performance in Conducting: GIANANDREA NOSEDA for Adriana Lecouvreur at the Met. In the wrong hands, Cilea's opera can feel trite and superficial, a mere vehicle for a charismatic soprano and a powerful mezzo. Noseda approached this opera with seriousness and care, bringing unmistakable italianità. The result was gorgeous playing from the orchestra that flowed with fascinating details about the story and its characters. The leading singers — Anna Netrebko (Adriana), Anita Rachvelishvili (Princess de Bouillon), Piotr Beczala (Maurizio) — sang with passionate refinement, following the tone set by the conductor. Smaller roles assumed by Ambrogio Maestri, Maurizio Muraro, and Carlo Bosi became indelible portraits. The effect of the entire performance, in musical terms, was of Adriana Lecouvreur being a masterpiece that had never been fully appreciated.
Honorable mention: Ivor Bolton (Billy Budd, Royal Opera House); Rachelle Jonck, maestro al cembalo, and Jakob Lehmann, primo violino (La Gazza Ladra, Teatro Nuovo); Karen Kamensek (Akhnaten, Met); Yannick-Nézet-Séguin (Dialogues des Carmélites, Met); Antonio Pappano (La Forza del Destino, Royal Opera House); Corrado Rovaris (The Love for Three Oranges, OperaPhiladelphia); Jaap van Zweden (Bluebeard's Castle, New York Philharmonic); Emmanuel Villaume (Manon Lescaut, Dallas Opera).
Prick Up Your Ears, Conducting: I had known of SPERANZA SCAPPUCCI for a long time as a much-admired up-and-comer, though my only exposure to her was hearing her play piano with singers at Juilliard. Which made her stellar conducting of Tosca at the Washington National Opera in May that much more impressive. I have attended this opera well over a hundred times, and Scappucci's conducting was a revelation. This was the best performance I have ever heard by the Washington National Opera Orchestra. The volume and pacing were perfectly connected and in the moment with the performances of the cast, starring Keri Alkema, Riccardo Massi, and Alan Held. The winds (especially the clarinet), brass, and percussion were thrilling. And I have never heard better string playing in any performance of Tosca. Scappucci, who is a Roman and no doubt has a special feeling for this opera set in her hometown, clearly thinks of her storytelling not only in the music, but also the words. Her music-making was so alive, so pictorial, and made a warhorse opera sound like it had just been written. She conducts mostly in Europe, but I am certain she will soon have a higher profile at leading American opera companies.
Opera in Concert: I saw three remarkable opera-in-concert performances, all deserving of recognition. Harry Bicket led a superb rendition of Handel's Semele at Carnegie Hall with the English Concert and Brenda Rae in the title role, and Elizabeth DeShong as Juno / Ino. Jaap van Zweden conducted the New York Philharmonic in David Lang's Prisoner of the State in June (Eric Owens leading an excellent cast), as well as a double bill in September of Schoenberg's Erwartung (starring Katarina Karneus) and Bartok's Bluebeard's Castle (with sensational performances by Nina Stemme and Johannes Martin Kränzle).
Recital / Concert: MATTHEW POLENZANI with JULIUS DRAKE and JENNIFER JOHNSON CANO, February 24 at Zankel Hall. A program of Schubert and Beethoven sung by Polenzani with Johnson Cano concluding the first half with Gypsy songs by Brahms. The highlight was Janáček's rarely-performed cycle, The Diary of One Who Disappeared, which took up the whole second half of the program. Polenzani sang the role (which one could almost call it) of a young man who encounters a beautiful and sensual gypsy (Johnson Cano), impregnates her, and then faces the consequences of leaving his family to be with her and their new child. I cannot vouch for his pronunciation of the Czech language, but it did sound beautiful and I felt all the moments of drama and pathos in this cycle. The one encore, "Danny Boy," was as beautiful as any art song, but also emotionally wrenching in its simplicity.
Just as this article was being written, I heard a magnificent performance of Schubert's Winterreise at Carnegie Hall with JOYCE DiDONATO and YANNICK NÉZET-SÉGUIN. It was a performance of exquisite artistry by both musicians as they explored this summit of song cycles.
Orchestra: As I stated last year, "For its versatility and beauty of performance, the METROPOLITAN OPERA ORCHESTRA has no rivals. It can play a challenging new work and then, one day later, give a ravishing performance of standard repertory." That is still the case. The single most amazing operatic performance by an orchestra for me this year was at the ROYAL OPERA, COVENT GARDEN, with IVOR BOLTON conducting Billy Budd.
Chorus: The ROYAL OPERA chorus gave marvelous performances at Covent Garden of Billy Budd and La Forza del Destino. The METROPOLITAN OPERA chorus excels in all styles and languages, and have become outstanding actors too. Much credit to chorus master Donald Palumbo, who also engaged and trained a special 60-member chorus for Porgy and Bess, which came in all ages, shapes, and sizes, and fully encompassed the community of the people of Catfish Row, singing and acting magnificently.
New Operas: Every new opera is a sign of hope and reason for celebration. I saw three outstanding new works and wish them all a long life with large audiences: Denis and Katya (Philip Venables / Ted Huffman, OperaPhiladelphia), Prisoner of the State (David Lang, New York Philharmonic), and Stonewall (Iain Bell / Mark Campbell, New York City Opera).
New Production: Giulio Cesare at Teatro alla Scala. Stage director Robert Carsen has an unmatched gift for updating operas in a way that never feels like he is shoehorning an old work into a modern context, no matter how painful and ill-advised. We have seen that in his Falstaff and Der Rosenkavalier at the Met and Don Giovanni at La Scala. All of them show how certain values transcend their time and place to achieve a universal relevance and humanity. Handel's 18th century version of events of ancient Rome and Egypt became a study of how power can seduce and deceive not only the masses, but also those who rule. The production was full of stunning images and superb performances by a strong cast, including Bejun Mehta in the title role and Danielle DeNiese as Cleopatra, all conducted by Giovanni Antonini. Sets and costumes by Gideon Davey cleverly conveyed Carsen's ideas, all of which found resonance in the local Milanese audience.
Honorable Mention: Akhnaten (Met); Love for Three Oranges (OperaPhiladelphia).
Revival: LA BOHÈME at the Met. Although Franco Zeffirelli's 1981 staging is the most-performed production in Met history, the cast (Ailyn Pérez, Matthew Polenzani, Olga Kulchynskaya, David Bizic, Andrey Zhilikovsky, Jongmin Park, and Arthur Woodley) was well-nigh perfect in singing and acting. They, under the expert conducting of Marco Armiliato and the outstanding stage direction of Gregory Keller, made me feel as I was seeing this opera and production for the first time when, in fact, I have seen it more than 100 times!
Honorable Mention: Les Dialogues des Carmélites (Met) John Dexter's perfect production from 1977 got a superb revival, conducted by Yannick Nézet-Seguin, staged by veteran David Kneuss, and starring Isabel Leonard, Karita Mattila, Adrianne Pieczonka, and Karen Cargill. What a shame all of that work could only be seen at three performances in May, though it was captured on HD.
Stage Direction: ETHAN McSWEENY (Tosca at Washington National Opera) is a name I knew from the American Shakespeare Center, where he is artistic director. I don't know how steeped in Tosca he was before taking this assignment. This opera requires a great deal of realistic, though elevated, acting from singers who also must tackle deceptively tough music. There are so many dramatic moments to sort out, and most performances I have seen, even with great stars, are often leaden and predictable. This one crackled with dramatic tension, and almost every moment (the one exception being Tosca's premature ascent to the parapet at the end of the opera) was directed as if McSweeny had given the material fresh, original thought, rather than sticking to the conventional actions and movement one sees so often in productions of Tosca. The pacing was excellent throughout, the singers actually reacted to what they were hearing, and no one overacted. This storytelling benefitted from the outstanding conducting of Speranza Scappucci and the superb lighting design by Gary Marder.
Honorable Mention: Robert Carsen (Giulio Cesare, La Scala); Emma Griffin (Don Giovanni, Juilliard); Gregory Keller (La Bohéme, Met); Phelim McDermott (Akhnaten, Met); James Robinson (Porgy and Bess, Met); Alessandro Talevi (The Love for Three Oranges, Opera Philadelphia).
Scenic Design: GIDEON DAVEY, for Giulio Cesare at Teatro alla Scala.
Honorable Mention: Justin Arienti (The Love for Three Oranges, OperaPhiladelphia); Tom Pye (Akhnaten, Met).
Costumes: KEVIN POLLARD for Akhnaten at the Met. In a production that invited fantasy and reflection without dictating its ideas, the costumes were extraordinary in their beauty and originality and — in the case of a costume in the third act for Anthony Roth Costanzo in the title role — singularly thought-provoking. They played a key role in stimulating our thought without overwhelming the remarkable lighting and production values that made this one of the most unforgettable opera performances of the year.
Lighting: GARY MARDER. The sets used for the Washington National Opera's Tosca have long belonged to Seattle Opera, but I gather that they originally were made in Italy in the 1940s. They are what is known as painted drops, and have taken on a sepia tone that makes them fade from view. But they are well-designed with proper means of ingress and egress. A smart lighting designer understands that such drops do not need to be illuminated but, rather, that the action contained within them must be lit to see the faces of the characters, and also subtly communicate emotion and the time of day or evening. Tosca also uses candles and has indoor and outdoor action, culminating with a tentative sunrise that is juxtaposed with a tragic ending. Marder faced all of these challenges brilliantly.
Honorable Mention: Akhnaten (Met); Giulio Cesare (La Scala); The Love for Three Oranges (OperaPhiladelphia); Luisa Miller (Verdi Festival, Parma); La Sonnambula (Teatro Sociale di Como).
Comeback of the Year: Only seen through the myopic view of U.S. opera companies, would American tenor GREGORY KUNDE's return to the Met as a last-minute substitution as Samson in March be considered a comeback? Kunde is a huge star in Europe, appearing in most of the major theaters from London to Vienna. He won the International Opera Award as the world's best male singer in 2016 and, in 2018, was named a Cavaliere di Verdi in Parma, the first tenor to receive this recognition since José Carreras in 2005. Kunde's Met appearances, occasioned by the indisposition of a colleague, were his first since 2007. He had only sung at the Met seven times. His return caused a huge stir, and I hope the company has offered him a lot of future engagements. The week prior he made a rare appearance at Dallas Opera as Des Grieux in Manon Lescaut. I have heard Kunde do superb work in Europe in Il Trovatore, Otello, and Aïda, and he will sing his first Florestan in Florence in May 2020.
Category of One: Italian baritone LEO NUCCI announced that his appearances as Rigoletto at La Scala in September would be his last. Nucci, age 77, chose to make his exit performing with talented young singers and musicians from La Scala's wonderful training program. I had the good fortune to attend one of these performances, and it was an honor to see this master artist, who continues to refine his portrayal of Verdi's remarkable character. Other older artists, especially when faced with diminishing vocal and physical resources, lock in their portrayals and do what they can to seem like nothing has changed. Nucci has played Rigoletto for decades (and other leading Verdi baritone parts such as Nabucco and Macbeth), and he makes each performance fresh, original, and unforgettable. He plans to teach and direct, passing on the tradition and wisdom he has acquired in an illustrious career.
I wish you a splendid year of performances in 2020, and encourage you to buy an extra ticket to invite someone who has never attended an opera.