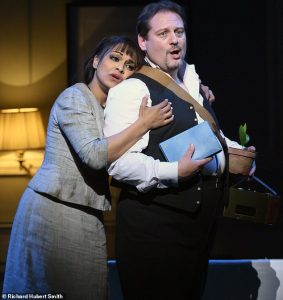 by Sam Smith
published: 20 Jun 2019
Glyndebourne Festival Opera's production of Massenet's Cendrillon, developed by Fiona Dunn from Fiona Shaw's 2018 Glyndebourne on Tour production, certainly places the notion of the fairy tale at its centre. It may go one step too far in the way in which it plays out its ideas, but the piece feels so lovingly created that the entire evening sparkles with magic.
Jon Bauser's set feels quite traditional, while Nicky Gillibrand's costumes seem modern, but this works because a family could easily live in a house that has stood for centuries. In this way, our initial encounter with Dorothée (Julie Pasturaud) and Noémie (Eduarda Melo) sees them embracing designer, though tasteless, clothes as they take selfies with their mobile phones. While, however, such initial antics are amusing enough we have seen this type of thing many times before. As a result, it is only after the sisters return from the ball that they let rip to such an extent that we really laugh as Dorothée is sick in a bin liner and Madame de la Haltière unwraps the cellophane from around her body as if it were part of a routine.
However, while such shenanigans do ultimately contribute to the success of the evening, what makes it special is the focus on Lucette throughout, as a younger version of herself graces the stage, and the character infiltrates every aspect of the drama. In this respect, Danielle de Niese is perfect in the role as her gaze convincingly conveys child-like innocence, longing and wonder. She also, however, has the elegance to make us feel how all eyes really would be drawn to her at the ball, and a level of dancing ability that is possessed by no more than a handful of opera singers.
The butterfly, signifying metamorphosis and transformation, entrapment and escape, is a recurring motif throughout the production. It appears in silhouette on the walls and on the shopping bags belonging to the sisters, while it is telling how tenderly Lucette cleans a bottle that contains two. When the Spirits appear they pop out of the sisters' shopping bags, so that each has a shoe or item of clothing on their head, with the initial moment when the bags start to shake being just as magical as anything that follows. Then de Niese is put in a huge zip-up 'bag' and carried about the stage so that she emerges from it in a beautiful ball gown just as a quick-change artist might.
When The Fairy Godmother first appears a butterfly is projected on the wall behind her so that it seems as if she has wings. Nina Minasyan looks stunning as she wears a fur-lined coat and, because this is the modern day, carries a cigarette instead of a wand. She also reveals a soprano of such radiant beauty that it is easy to forget all of the technical challenges involved because her coloratura sounds so effortless and natural. Kate Lindsey is similarly outstanding as the Prince, with her richly hued mezzo-soprano and dignified demeanour contributing to the magic by bringing a quiet and understated intensity to the proceedings.
While, however, it is appropriate, given the nature of the piece, to imply that the entire scenario is practically a dream, constantly making this point creates difficulties from a dramatic perspective. At the start of Act II when we are introduced to the Prince, he is in a hospital bed as a way of revealing the extent to which his melancholy has taken hold of him. Here, a sandman-style figure reveals him to Lucette who sometimes mirrors and sometimes responds to his actions. However, if the idea of her seeing him in a dream is established at a point when normally she does not meet him at all, it makes little dramatic sense to repeat the same trick twice by seemingly playing out her real encounter with him at the ball as a dream. Then by Act III the impact of what really is the dream sequence is undermined because we have seen it all before.
Similarly, the Prince is also seen as a servant in Pandolfe's house, and it is never clear if someone is physically there or whether they are just a metaphorical presence. If the former it destroys the idea of Lucette being treated as the lowest of the low who has to do everything, but even if the latter the presence to the audience of a third figure in the scene when Pandolfe (Lionel Lhote) sensitively tends to the ill Lucette undermines the intimacy of the moment between the pair.
When the Prince is finally united with Lucette it is in the clothes of a servant, and again the question is, does this merely represent that with Lucette he is merely a human being rather than a man of elevated status, or does it signify something more? The point is not that any of the ideas explored are bad, but that there are too many so that we become caught up in trying to make sense of them to the detriment of simply feeling swept along by the magic. Nevertheless, this production remains extremely charming and enchanting, there are some outstanding performances, and John Wilson's conducting of the London Philharmonic Orchestra is exceptionally deft.
Glyndebourne Festival Opera's Cendrillon will be broadcast live to selected cinemas in the UK and worldwide at 5.30pm on 30 June, while some cinemas will show encore screenings over subsequent days. For details of participating venues, and of this year's screenings of Il barbiere di Siviglia and Die Zauberflöte, visit the Glyndebourne on Screen 2019 webpage.
Glyndebourne Festival Opera's 2019 season continues until 25 August. For details of all events and tickets visit the designated website.