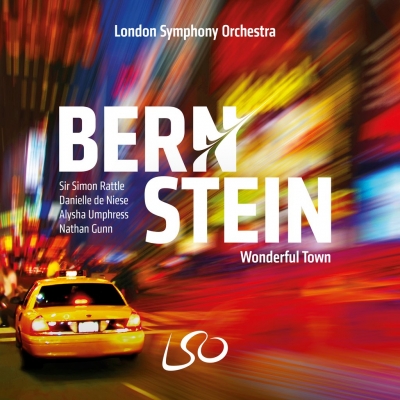 Featuring an all-star cast led by Danielle de Niese and Alysha Umphress, as well as players from the John Wilson Orchestra, Rattle's latest release on LSO Live joins worldwide celebrations marking the centenary of the Orchestra's former President.
The Tony Award-winning musical follows sisters Ruth and Eileen on their quest to make it big, pursuing careers in writing and acting from their cramped basement apartment in New York's bohemian Greenwich Village. Fresh from rural Ohio, the sisters end up getting more than they bargained for, realising that life in the Big Apple is not as glamorous as it may seem.
Bernstein's infectious score includes classic numbers such as 'Ohio', 'One Hundred Easy Ways', and 'A Little Bit in Love', as well as a riotous conga that had delighted audiences singing and dancing in the aisles of the Barbican Hall. This energy and excitement is captured in a bonus version of Conga!, which was recorded during the encore of the final performance and will be available on the digital version of the album.
On the work, Sir Simon Rattle shares: 'It's hilarious, it's beautiful, it's touching and, as ever, you're reminded that Bernstein could write any type of music. South American music? Yes! The latest jazz? Yes! A sentimental ditty, or something that works with the words "why, oh why, oh why, oh why did I ever leave Ohio?"… he really could do anything!
I must say, when we played it again, it was a great Christmas present for all of us, because it suits this Orchestra so well. They knew him, they have him in their blood, but also because they play a lot of music which is jazz-inflected, this is no problem, this style. We had a blast, and a great cast, it was just a shame it was over so quickly, so I'm delighted the recording is here to remember it.'
Concert reviews:
'I cannot imagine better casting for the sisters than the quintessentially sassy Danielle de Niese and the effortlessly funny Alysha Umphress.'
The Times
'Simon Rattle pulls out all the stops for LSO's Bernstein celebration'
Financial Times
'He [Rattle] gave us an encore, a reprise of the work's celebrated Conga, which had the audience dancing in the aisles.'
Evening Standard
Release Information
Sir Simon Rattle conductor
Danielle de Niese Eileen
Alysha Umphress Ruth
Nathan Gunn Bob Baker
Duncan Rock Wreck / Second Associate Editor
David Butt Philip Lonigan
Ashley Riches Guide / First Editor / Frank
London Symphony Chorus
Simon Halsey Chorus Director
London Symphony Orchestra
Release date: 7 September
Hybrid SACD: LSO0813 | 822231181323
Digital: LSO0813D | 0822231181361
Producer: Andrew Cornall
Engineering: Classic Sound Ltd
Recorded live in DSD at Barbican Hall, London, December 2017