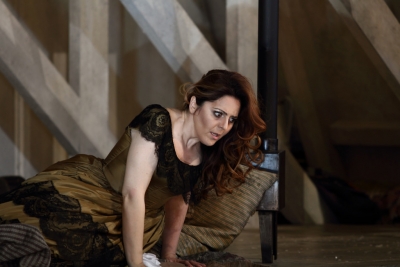 20 June, 2018
Richard Jones must be delighted by this latest outing of his 2017 new production of La Bohème. The production is tighter and clearer. He and his designer Stewart Laing have put a huge amount of effort into the Act 2 Café Momus scene. It is outstanding, as he provides 3 shopping arcades on the stage, which eventually move apart as the Café Momus set arrives for the main part of that Act.
It is all very beautifully done and a vast contrast to the almost completely bare stage of Act 3 – despite a moving house which is somewhat awkward – and the shift into the Attic scene of Act 4, where we are left to concentrate on Mimi's tuberculosis and her death.
The Mimi of the Italian soprano Maria Agresta gives a wonderfully credible interpretation of this role and whilst she starts slightly emotionally cold in Act 1, she warms us to her personality and charm and leaves us in tears at her death.
She is admirably supported by the American tenor Matthew Polenzani, whose substantial ringing tenor with a secure top, gives us the right amount of pathos and phrasing throughout the evening.
Etienne Dupuis sings a quality Marcello but the surprise of the evening is the outstanding performance of the Musetta of Danielle De Niese. She combines an outstanding vocal projection with an equally outstanding acting performance in one of the best Musettas to be seen on the Royal Opera House stage for a long time.
Musically the evening is well controlled by the conductor Nicola Luisotti with the orchestra on fine form.
A memorable evening.