MARCH 24, 2023
Spring Rites and Empyrean Heights
by John Ehrlich

I cannot advise too strongly that attending the present cycle of BSO concerts under Thomas Adès's direction is of such tremendous import. Please accept this brief summation of why one ought to visit Symphony Hall today and/or tomorrow.
That Thomas Adès and the BSO enjoy a special relationship is no news to regular BSO attendees. The rewards of this partnership went on brilliant display Thursday evening as the Orchestra essayed Stravinsky's superb though elusive Perséphone (1934) and two monumental works by Ades himself: an eight-movement suite drawn from his ballet Dante, (2019 – 21), and the final movement from that same ballet, Paradiso.
I say "monumental" as these works by Adès require a huge orchestra, and in Paradiso, the addition of a large women's chorus. When combined under the composer's superbly assured direction, these forces created a sound, which when raised to its fullest volume, reached an overwhelming magnitude only rarely encountered in symphonic music. In fact, there are only a few occasions in the past where I've encountered such intensity of volume and focus: Seiji Ozawa's powerful performances of Messiaen's Turangalila Symphony and Schoenberg's Gurrelieder, plus James Levine's inaugural Mahler Symphony No.8.
Sound intensity and volume seemed integral to these Adès works, yet sheer sound volume is not an end in itself. Rather, what Adès achieves with this component of his music makes such a compelling argument for attending in-person to experience these affects.
Adès is a real polymath. A gifted pianist and composer, he is also a superbly clear and "readable" conductor. He brings a composer's experience to his technique, anticipating every entrance, clearly indicating everything a player needs to know to achieve what Adès imagines the composer wished to communicate. He made this abundantly evident in his leading of Stravinsky's Perséphone, Melodrama in Three Tableaux. The BSO gave the American premiere in Symphony Hall in 1935. The composer conducted, and Arthur Fiedler prepared the Cecilia Society Chorus.
One rarely encounters this dramatic work in concert. Its requirements are daunting — a large, colorfully scored orchestra, two vocal soloists — a tenor, singing as Eumolpus, the Priest and Narrator, and a speaking part for a woman who acts as Persephone, the Goddess — a large mixed chorus, and a children's chorus. Edgaras Montvidas's strong, clear tenor and the mellifluous speaking voice of soprano Danielle de Niese created ideal protagonists; they were joined by the Tanglewood Festival Chorus, ably prepared by James Burton, and The Boys of St. Paul's Choir School (Cambridge, MA) prepared by James Kennerley. Pamela Dellal coached the idiomatic-sounding French language the choral forces projected.
Under Adès's masterful direction, these forces gave us a Perséphone of complete and total conviction, and intensity. The many wonderful first-desk soloists of the orchestra shone in supreme command of their several virtuoso solos. Yet it was the totality of the entire ensemble that overwhelmed this listener. Today's Boston Symphony has no peer in togetherness of intent and unity of purpose when playing music of such caliber and challenge. Bravo, tutti.!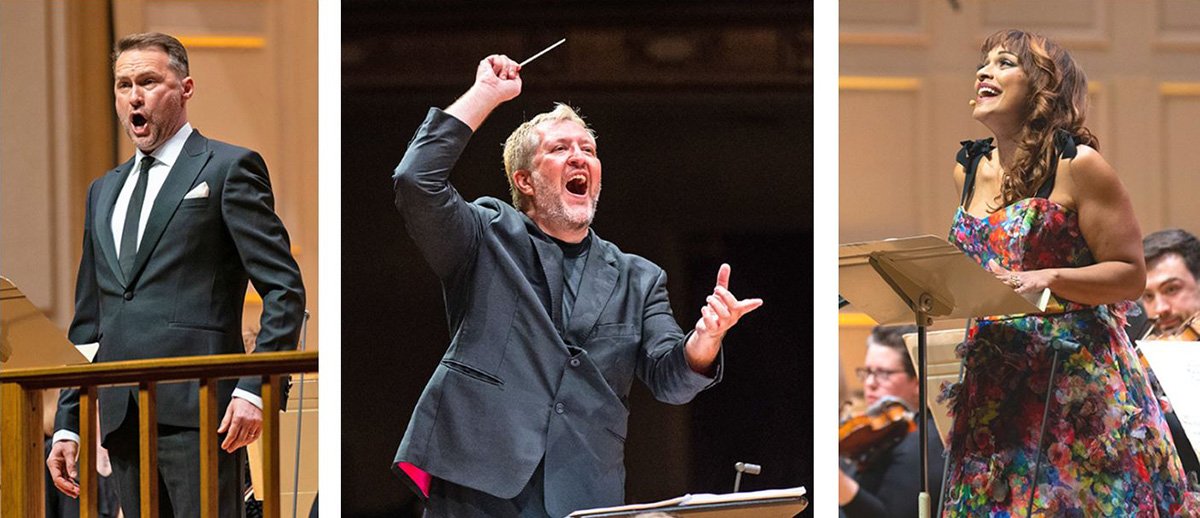 The exceptionally informative program essays by Robert Kirzinger, Matthew Mendez, and the late Michael Steinberg also warrant our praise.
Even if 20th– and 21st -century music may not be your preferred orchestral fare, I urge you to attend this remarkable concert today and/or tomorrow.
John W. Ehrlich is music director of Spectrum Singers, which he founded 40 years ago. He has been a singer and conductor in the Boston area for more than 47 years.