By: Mark Beech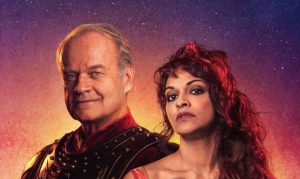 Kelsey Grammer and Danielle De Niese are sharing an impossible dream: they are leading a revival of a musical not seen on stage in decades. The two are speaking in interviews shortly before Man Of La Mancha starts previews on April 26, the first West End production of the show in more than 50 years.
The London Coliseum staging follows years of negotiations by Michael Linnit for permission to revive the show. Linnit is the co-producer with Michael Grade. The Tony-winning Broadway musical is most famous for the song "The Impossible Dream (The Quest)."
Grammer, best known as Dr. Frasier Crane in the NBC sitcoms Cheers and Frasier, is making his West End debut and says "'The Impossible Dream' is one of the most perfect songs from one of the most perfect stories in our human experience. It is really compelling, beautiful and uplifting. I have been busy rehearsing it and sang it beautifully in the shower this morning!" The song has been performed by Frank Sinatra, Elvis Presley, Andy Williams, Luther Vandross, The Temptations and The Mormon Tabernacle Choir among others. Grammer especially likes the 1966 version by Jack Jones. The plot is a show within a show based around the Miguel de Cervantes novel Don Quixote. Grammer will play both the writer and his title character. Grammer is not sure what the psychiatrist Dr. Frasier would advise the slightly crazy Don Quixote, apart from not to tilt at windmills "because windmills can bite back."
The international opera soprano De Niese says she is enjoying working with the cast and producer Lonny Price. Part of the show's run overlaps with her starring role at Glyndebourne Opera that takes place south of London. Her only worry is whether Britain's notoriously unreliable railroad system will get her there from Glyndebourne. "I will be there, even if I have to sprout wings," she says. Cassidy Janson will perform on days that she cannot attend. De Niese – who has sung everywhere from the Metropolitan Opera to Covent Garden as well as performing with LL Cool J – will sing for 33 performances and Janson in 17.
"I remember that 'Impossible Dream' song, it used to be one of my mum's favorites," De Niese adds. "There are many more though. Like 'What Does He Want Of Me?' They are memorable for a female character, much like 'Don't Cry For Me, Argentina' or 'I Don't Know How to Love Him' from Jesus Christ Superstar. Something quite vulnerable and sweet."
Linnit says he that he remembers the show from its performances in 1968 and he has seen more productions since. The musical has been shown all over the world and translated into 40 languages including Korean and Swahili. About 20 years ago Linnit asked for the rights, only to find other producers had optioned them. Three years ago, he was approached again, when the rights were owned by the widows of the three creators, and Linnit now has clearance to do the show on Broadway, the West End and Australia. "You can't change a word so it will be very faithful to the original. I am looking forward to five-star reviews and retiring to the Bahamas!" The same production team worked on Sweeney Todd: The Demon Barber of Fleet Street, Sunset Boulevard, Carousel and Chess, the success of which has helped finances of the English National Opera, which is based at the Coliseum. The show uses the ENO's 35-piece orchestra and also stars Peter Polycarpou and Nicholas Lyndhurst (best known for the TV series Only Fools And Horses and Goodnight Sweetheart).
Kelsey Grammer reveals that Frazier might have a new life at some point with a new series. He is talking to writers from the old show and some new ones. He has just been seen carrying a Frasier script in London. Grammer, who has won Emmy Awards and Golden Globes, says: The take I am looking for is that Frasier has a third act, rather than pick up where the second act left off. John [Mahoney] has now gone, who played my father Martin." It is still "a little premature" to discuss what might happen with a new series: "But yes, I have got to live my impossible dream."
Musicals remain one of the riskiest forms of musical theater: they are often expensive to stage and need healthy ticket sales to survive. For all that, cities on both sides of the Atlantic are full of musicals. Show in New York currently include Oklahoma!; Hadestown; Ain't Too Proud: The Life And Times Of The Temptations; Fiddler On The Roof; Kiss Me, Kate; Be More Chill; The Cher Show; The Prom; King Kong; The Band's Visit; Pretty Woman; Mean Girls; My Fair Lady; Disney's "Frozen"; Hamilton and Waitress. There are many more. Shows in London currently include Sweet Charity; Fiddler On The Roof; Waitress; Follies; 9 To 5: The Musical; Come From Away; Only Fools And Horses: The Musical; The Book Of Mormon; Hamilton; Tina: The Musical; The Lion King and Mamma Mia.
One reason for so many shows is that successful musicals can be wildly profitable: the theatrical mogul Andrew Lloyd Webber has a net worth of about $960 million, according to the Sunday Times
Shows that sometimes come off the big stages – Bat Out Of Hell has now moved on from London – can be even more successful on tour.