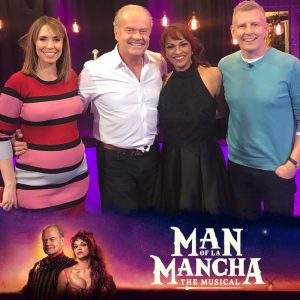 Man of La Mancha stars Kelsey Grammer, and Danielle De Niese recently appeared on BBC's The One Show, where they talked about the West End musical. At the end of their appearance, they performed "The Impossible Dream."
The full episode is available to watch to viewers in the UK only here.
Clips of the performance and interview were posted to the show's official Twitter account:
Watch the full interview portion of the episode below!
Peter Polycarpou joins Kelsey Grammer, Danielle De Niese, Nicholas Lyndhurst and Cassidy Janson in the acclaimed musical which opens at the London Coliseum on 26 April 2019 for a limited six week season and will be performed with the ENO orchestra.
Man of La Mancha is directed by Lonny Price,
In a 16th century dungeon Cervantes and his man servant await trial from the Spanish Inquisition. In his possession he has a trunk carrying an unfinished novel, Don Quixote. As prisoners attempt to steal his possessions, Cervantes embarks on acting out his novel as his defence, transforming himself into Alonso Quijano.
Quijano, deluded, believes he is a knight errant, renames himself Don Quixote de la Mancha, and sets off on a fantastical quest with his man servant Sancho Panza.
Chivalry abounds in this classic tale of knighthood, love, loyalty and adventure.
The music in Man of La Mancha is by Mitch Leigh, lyrics by Joe Darion and book by Dale Wasserman.