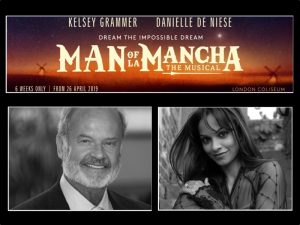 Inspired by Miguel de Cervantes's 'Don Quixote', the classic musical returns after 50 years.
26 Apr – 08 Jun 2019
Dream the impossible dream… The award-winning musical Man of La Mancha returns to London, starring Kelsey Grammer and Danielle de Niese.
Featuring the iconic song 'Dream the Impossible Dream', Man of La Mancha is inspired by Miguel de Cervantes's masterpiece Don Quixote.
In a 16th century dungeon Cervantes and his man servant await trial from the Spanish Inquisition. In his possession he has a trunk, carrying an unfinished novel Don Quixote. As prisoners attempt to steal his possessions, Cervantes embarks on acting out his novel as his defence, transforming himself into Alonso Quijano.
Quijano, deluded, believes he is a knight errant, renames himself Don Quixote de la Mancha, and sets off on a fantastical quest with his man servant Sancho Panza.
Chivalry abounds in this classic tale of knighthood, love, loyalty and adventure.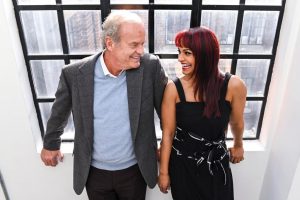 Emmy Award-winning and Tony nominated actor Kelsey Grammer, best known for playing Dr Frasier Crane in NBCs hit series Frasier will make his West End debut playing Miguel de Cervantes and Don Quixote and the international opera star and soprano, Danielle de Niese will play Aldonza and Dulcinea for 33 performances. Sharing the role of Aldonza and Dulcinea will be West End star Cassidy Janson and joining them as the Innkeeper and Governor is BAFTA Award-winning actor Nicholas Lyndhurst.
Man of La Mancha will be directed by Lonny Price, who also directed Linnit and Grade's acclaimed London productions of Carousel, Sweeney Todd: The Demon Barber of Fleet Street and Sunset Boulevard, as well as the hugely-successful subsequent Broadway transfer of Sunset Boulevard.