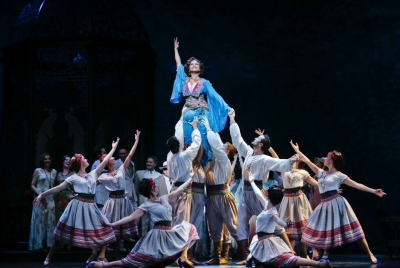 Patricia Maunder
November 17, 2017
For those who enjoy operetta's beauty and bubble, Opera Australia's The Merry Widow is a dream come true. Its Roaring 20s set and costumes are gorgeous, there's lots of lively dancing – no surprise given dance master Graeme Murphy is at the helm – and the fine cast is led by Danielle de Niese. If having one of the world's most acclaimed young sopranos in the title role isn't enough, the fact that this marks the Melbourne-born star's long awaited operatic debut on home soil makes this Widow positively dreamy.
The only notable smudge on opening night's gloss was the nagging disappointment that De Niese's triumphant return wasn't with the coloratura fireworks of a Baroque or Mozart opera – the core works of her stellar international career. Instead it's this light, miked role most often associated with sopranos in the twilight of their careers. She's effortlessly good, of course, but one hopes that De Niese will soon return in a role that reveals her full vocal arsenal.
Franz Lehár's The Merry Widow, which premiered in Vienna in 1905, focuses on the title character, Hanna Glawari. She has inherited her late husband's fortune, which is so large that her Balkan homeland of Pontevedro will be bankrupted if Hanna marries a foreigner.
She arrives in Paris, where the Pontevedrian Ambassador, Baron Zeta, decides that his nephew Count Danilo Danilowitsch must marry Hanna. The pair were romantically entangled before her marriage, so while French gold diggers clamour, she and Danilo spar as their feelings for each other are both rekindled and denied. Meanwhile, the Baron's wife, Valencienne, is tempted by the lovestruck Camille de Rosillon, adding further intrigue to this tale of love, (in)fidelity and a whole lot of cash.
Danielle de Niese as Hanna Glawari (center) in Opera Australia's The Merry Widow.
De Niese's widow puts the audience in a merry mood: her powerful, silky voice makes light work of Hanna's showstoppers; she brings emotional depth to a rather two-dimensional character, most notably during the romantic ballad about Vilja, a woodland nymph, rendering its allegorical meaning poignantly clear; she's a charming actor, ranging from flirtatious to crestfallen, and an impressive dancer too, waltzing gracefully and kicking as high as Act III's professional chorus line.
Alexander Lewis and Danielle de Niese.
Her leading man is another Australian thriving internationally – not yet at De Niese's level, but Alexander Lewis' future seems bright if this performance is any indication. The son of former Opera Australia stalwart Michael Lewis, he played Danilo in this Opera Conference production's July premiere with the West Australian Opera, enhancing what seems to be natural ease. From drunken cynic to doubting lover, he takes Danilo's moods in his stride, and reveals a confident tenor of lovely lyrical warmth. There's genuine rapport between Lewis and De Niese; their duets are delightful, especially the emotional exploration through voice and waltz at Act I's conclusion.
.
Stacey Alleaume and John Longmuir.
John Longmuir and Stacey Alleaume are vocally pleasing as the sidebar lovers Camille and Valencienne – the former's honeyed tone is particularly beautiful during their Act II duet. They aren't able to overcome the plot's limitations on their characters, however. The rest of the cast ham it up nicely, especially David Whitney as the foolish baron, and Benjamin Rasheed as his right-hand man, Njegus, a wise, restrained fellow who eventually lets loose to much applause. They, together with several other male cast members (including Brad Cooper, a capable late replacement as suitor St Brioche), form a very jolly ensemble for Act II's comic lament about women.
Vanessa Scammell ably leads Orchestra Victoria on a romantic, sometimes Eastern European folk-inspired journey, notable for violin and cello solos. The Opera Australia Chorus adds further soft, sweet musical depth – all while being kept busy by Murphy's stage directions and choreography. The former Sydney Dance Company artistic director, together with associate director/choreographer Janet Vernon, deliver a dynamic production, especially through frequent contributions by lithe dancers. Their choreography is traditional, from waltzes to Balkan-inspired folk dancing, but it's sprinkled with little surprises.
The cast of Opera Australia's The Merry Widow.
Justin Fleming's English translation of the libretto is also a source of surprise, from its flashes of 21st century idiom to risqué moments that sometimes seem a little too hot until one considers The Merry Widow was daring in its day. The production design is also audacious. Set designer Michael Scott-Mitchell and costume designer Jennifer Irwin move things forward a couple of decades from the traditional Belle Epoque setting, and do so on a grand scale. The art deco opulence is reminiscent of Baz Luhrmann's recent film adaptation of The Great Gatsby, most notably Act I's monumental latticework screens, and opulent gowns and accessories that are a vision of slinky bias-cut satin and glimmering sequins and costume jewellery. Act II's massive backdrop of late Monet waterlilies is a breathtaking homage to Widow's original setting.
The Merry Widow is inevitably as insubstantial as a dream. A very beautiful dream in this case, thanks in particular to stunning design and a bright star who leaves the audience wanting more – much more.