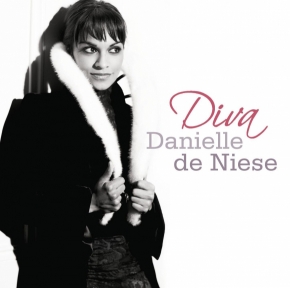 Danielle de Niese dazzles with a collection of her greatest hits along with new arrangements of old favourites and a lyrical adaption of the second movement of Karl Jenkins' famous Palladio in her fourth album- Diva.
"So many singers and instrumentalists are described as 'one of the most exciting musicians of their generation', yet all too often they fail to live up to their billing. But in the case of soprano Danielle de Niese, the excitement really is justified.
Much-loved by Glyndebourne audiences for several years, Danielle first shot to wider prominence when, at the eleventh hour, she stood in at the Classical BRIT Awards in 2008. Her electrifying performance of Delibes' 'The Girls from Cadiz', which she'd pretty much spent the last 24 hours frantically learning from memory, wowed the Albert Hall – and the TV audience who would later watch it.
Fast forward two years, and Danielle now has a record deal with Decca – the latest fruit of which is this album, Diva. Opera arias, new arrangements of old favourites, and hitherto unknown repertoire are all brought together to create a delightful listen." – Classic FM
"The operatic world gets terribly excited when a singer emerges who is both musically exceptional and highly attractive. Such prodigies are few and far between, but Danielle de Niele is the latest glammed-up soprano on the block, following in the footsteps of operatic beauties from the great Maria Callas to the Welsh mezzo warbler Katherine Jenkins. Luckily, the 31-year-old does have substantial talent to back up the image.." – The National